2016 Mercedes-Benz CLA 45 AMG 4MATIC Coupe Road Test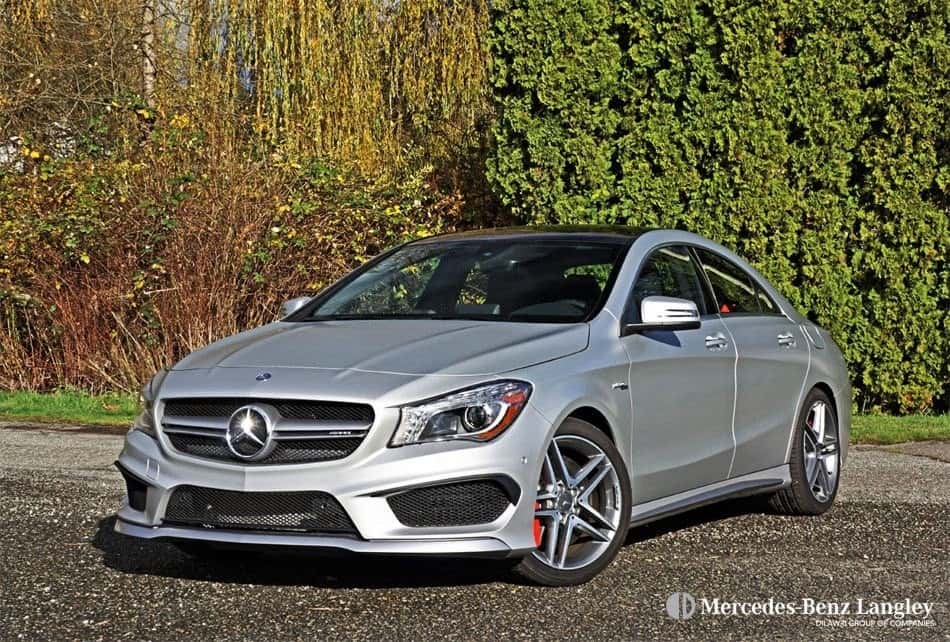 Easily the best sport sedan in its subcompact luxury class
If you need a visceral explanation as to why Mercedes-Benz outsells all other premium brands in the subcompact luxury segment, spend some time with a CLA 45 AMG 4MATIC Coupe.
The word Coupe is used roughly with this car, a misnomer I happen to like. Similar to the German luxury brand's CLS that ushered in the four-door coupe phenomenon, the CLA is more of a sleek, low-slung sport sedan, which means it's a lot more practical than a coupe, but it's not as staid and conventional as a more upright sedan. Hence why this best-of-both-world's model has been tearing up the sales charts since inception with 3,653 sold throughout Canada over the first 11 months of this year, 3,870 during all 12 months of 2015 and 3,851 in 2014, or at least that's half the story.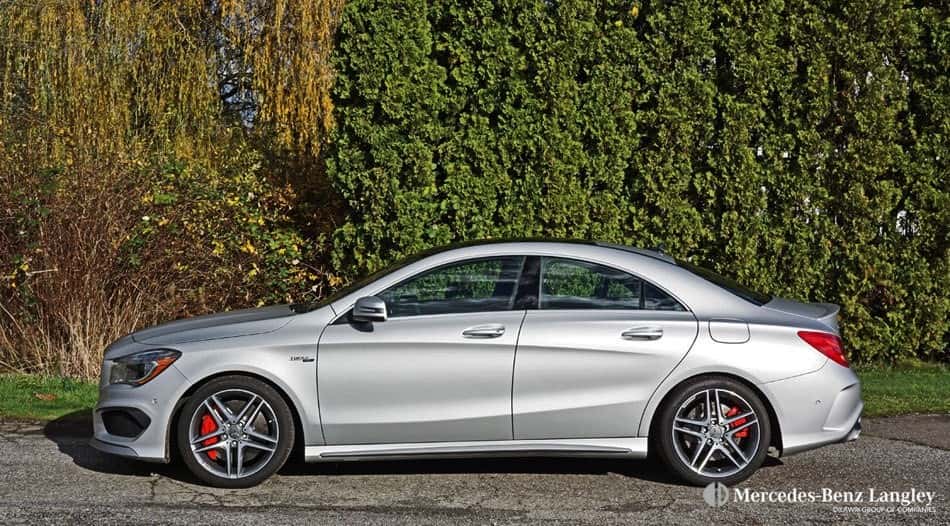 AMG makes a good thing look great
It's always looked great to my eyes, and the top-tier CLA 45 AMG version all the better. It boasts more aggressive bodywork, more expressive lighting elements, larger 18-inch twinned five-spoke alloys that frame beefier cross-drilled brake rotors with racy red calipers, and an interior that'll pull eyeballs from across the street.
My tester's was mostly red stitched black leather, with its substantive instrument panel inlay finished in genuine brushed aluminum and various trim bits detailed with a smoother satin finish. Its primary gauge package was a classic Mercedes two-dial design spiced up with sporty carbon faces and a high-resolution colour multi-info display at centre, all of which was outlined by a flat-bottomed black leather-wrapped sport steering wheel with red stitching and metal detailing including driver engaging paddles, this hovering overtop sporty metal foot pedals.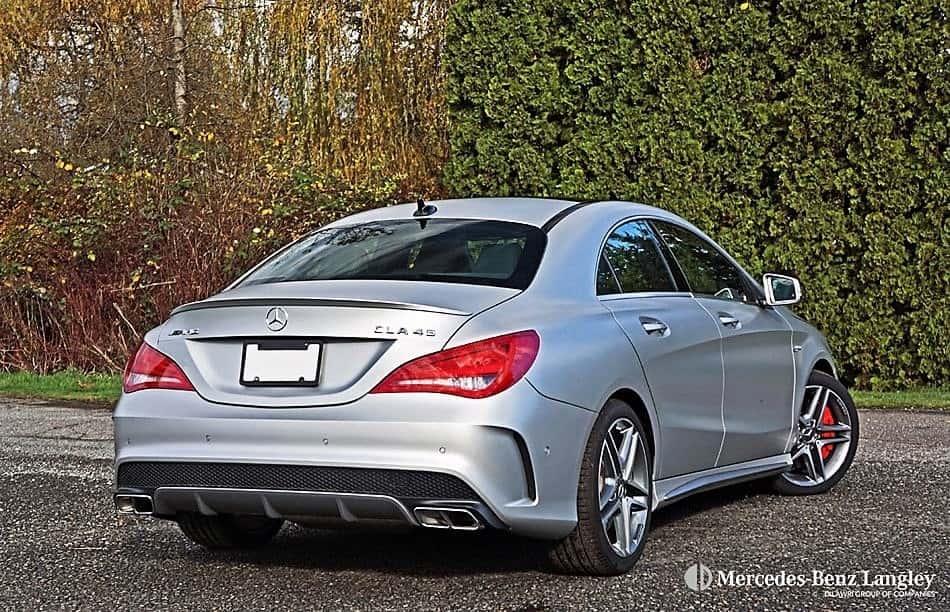 Mercedes makes the most visually enticing interior in the class
Across the dash the CLA's usual multi-directional HVAC vents received flashy piano black and shiny red trim, the centermost threesome visually supporting a large tablet-style infotainment display filled with crystal clear colour graphics as stimulating as the rest of the cabin, while just below is a straightforward assortment of quick access infotainment buttons that live up to the brand's high quality standards, these working in tandem with a rotating metal knob on the lower console for controlling all infotainment functions, although the double-dial dual-zone auto HVAC interface is the most appealing of its centre stack interfaces.

Jaw-dropping performance is always part of the AMG experience
A stylish metal and leather gear selector sits below on the centre console, complete with a rotating metal knob of its own for selecting driving modes. Set to Sport mode or more aggressive Sport+ the little CLA 45 transforms from stylish urban trendsetter to open road warrior, its paddle-shift actuated seven-speed automated double-clutch gearbox delivering rapid-fire response to input and 375 horsepower 2.0-litre twin-scroll turbo four with 350 lb-ft of torque fully satisfying each sequential progression, its tailpipe blipping and snorting with every shift thanks to an active sport exhaust button on the dash (leave it alone if you want all the speed with less noise); the downshift rev-matching transmission is especially raucous when dropping cogs. That's a 20-horsepower and 18 lb-ft gain from last year. Side window scenery's a blur on its way to 100km/h in just 4.2 seconds, which puts the little four-door squarely into Porsche 911 territory.
The CLA 45 AMG is even more fun when the straight and narrow suddenly changes direction, loses ground via pavement swells and undulations, and generally gets all twisted and irreverently contorted. These are the roads enthusiasts love best, and a car like the CLA 45 makes you wish every commute was as eventfully convoluted, but for most of us such is not the case so we exhaustively search out the best possible two-lane real estate including most opportune times for attack.

Find the right road and the CLA 45 AMG rewards
That would be mid-day when most everyone else is working real jobs and "the valley", as we locally refer to it, a mix of ever-burgeoning suburban sprawl and rich ranch and farmland networked via fabulously circuitous mostly well-paved roadways is a playground for both rusted out Japanese rat rods and higher end machinery like the CLA45 and above. Mercedes sells tons of AMG product in this neck of the woods, most of which are mathematically faster than this little runt of a road rocket, but the seat-of-the-pants sensation delivered by this smallest and least expensive Aufrecht Melcher Großaspach-tuned dynamo is hard to beat. Don't second-guess it for a second, whether at the stoplight or trying to stay ahead of one on a backcountry road, as a competent driver at the wheel will quickly humble much more powerful iron.
A favourite combination of S-curves followed by some deep diving off-camber vertical, an upward banked right-hander, a short straight, sharp left and blind crest helped put the CLA 45's handling chops into perspective, its superbly set up suspension and grippy 4MATIC AWD nicely matched to its 235/40ZR18 Continental ContiSportContact rubber, a good thing considering the prodigious power afoot. This is one talented dance partner, the entire car feeling like an extension of body and thought, the kind of vehicle I could become one with if allowed more time behind the wheel.

No shortcuts taken in quality
Its driver's seat isn't just a beautifully crafted perforated leather covered sculpture either, its backrest and extendable squab wonderfully comfortable thanks to plenty of adjustability, and its overall inherent support excellent due to sizeable side bolstering that kept buttocks and backside from sliding around during aggressive manoeuvres.
Every competitor should take lessons from Mercedes on how to do sporty interiors, because the brand's small cars and SUVs are brilliantly designed with as much sporting flash as well-made substance. The usual fabric-wrapped roof pillars let you know you're in a premium ride, if the three-pointed star didn't already give it away, while more unique details in my tester included an optional contrast-stitched leather dash top, the same upscale application for the door uppers, and full standard soft-touch door panels below, right to their very bottoms, plus soft painted plastics applied across the upper instrument panel. As already noted, there was plenty of impressive detailing to raise this car above most rivals.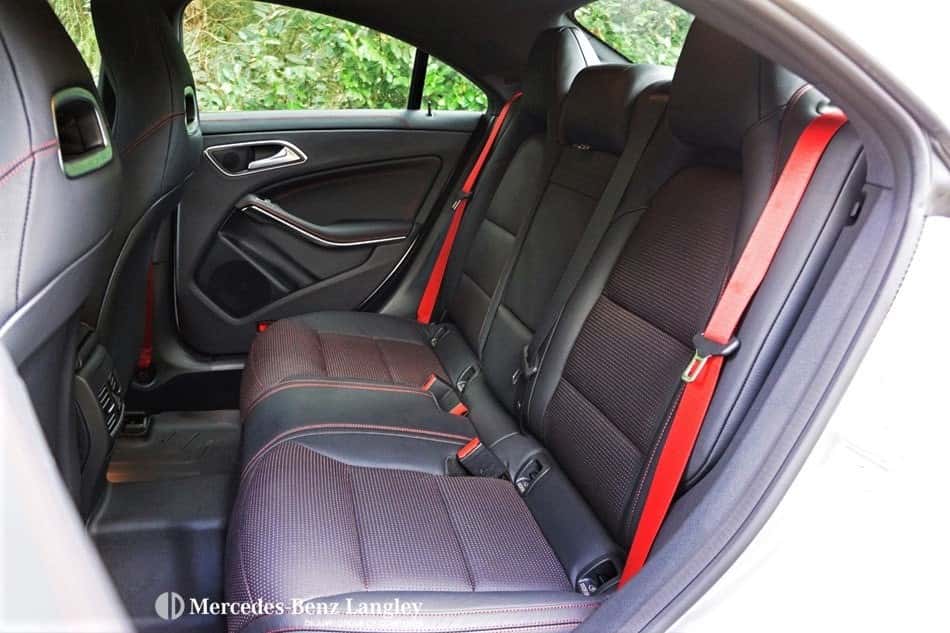 All seats are comfortable for most body types
The CLA is purposefully made small to fill the luxury brand's entry point in the subcompact class, but I found the rear outboard positions quite accommodating, as the seat cushions are sculpted out like the front buckets to provide good comfort and support. Mercedes smartly carved out the backsides of the front seats for extra space, which allowed for approximately four inches ahead of my knees when the driver's seat was set for my five-foot-eight medium-build frame. Additionally, I had about three inches above my head, plus plenty of space for shoulders and hips while the side and centre armrests provided additional comfort, the latter also incorporating pop-out cupholders. Up above was an overhead dome light with LED reading lights, while the rear seating area was nicely finished. Lastly, a large panoramic sunroof with a powered shade offers an airy ambience.
The trunk is actually quite large for the CLA's compact dimensions and benefits from 60/40 split-folding rear seatbacks as well as a centre pass-through. It's nicely finished with a carpeted load floor and sidewalls, plus four chromed tie-down rings and a netted compartment on the driver's side. If you need additional space, Mercedes offers its GLA45 AMG in the compact SUV class that delivers near identical performance plus the convenience of a taller roof and hatchback.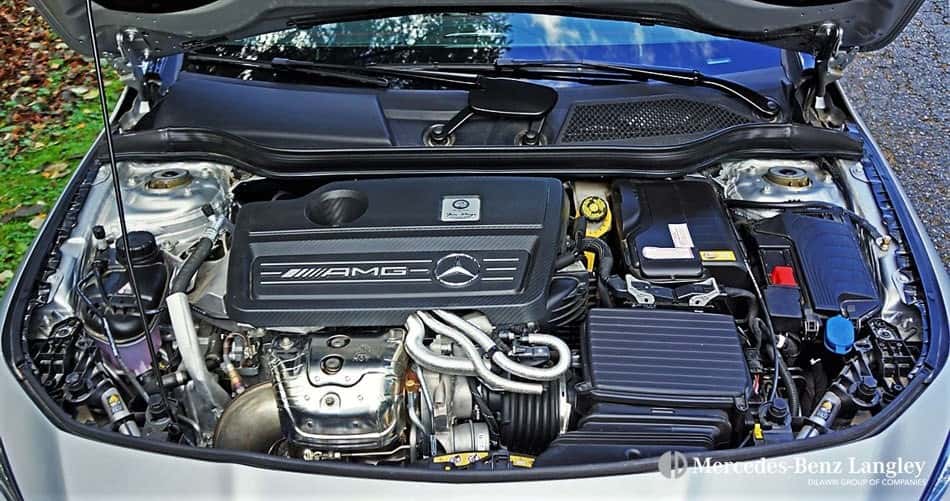 Sinful performance yet a saint when it comes to economy
Fuel economy is also a CLA 45 AMG 4MATIC strong point. Despite the car's sensational performance its 10.7 L/100km city and 7.6 highway rating isn't much thirstier than the 250 4MATIC's 10.0 and 7.2 rating, although both are beaten soundly by the ultra-thrifty FWD version's 9.6 city and 6.4 highway rating.
Being that 2017s are already on sale I'd better fill you in on some of the changes. The $51,800 CLA 45 gets no performance upgrades other than new alloy wheels that say a lot more about the car's mid-cycle redesign, which revises the front bumper, and even includes a large front splitter with downforce-generating canards if upgraded, plus freshens up the LED-enhanced headlamps while making full LEDs available, and finishes the rear end off with new LED taillights. Inside, AMG models get new faux suede trim, more metal detailing, larger 8.0-inch infotainment with a standard rearview camera plus available Apple CarPlay, Android Auto, and more, while upgraded proximity-sensing keyless access now pops open the trunk lid by waving a foot under the rear bumper. Emergency autonomous braking is now standard across the entire CLA range, plus more that I'll cover when I get my hands on one.
With respect to the drive and most of the CLA 45 AMG 4MATIC Coupe experience you can rely on this review, as even this 2016 model was one of the most enjoyable compact performance sedans I've had the pleasure of piloting. Yes, there's a reason it's number one in its class, not to mention a reason why Mercedes is once again well on the way to becoming the bestselling brand in the entire global luxury sector. No doubt there will be a party in Stuttgart come December 31, and not just to ring in another New Year, but rather to celebrate one of the best 12 months in the company's history.
Story credits: Trevor Hofmann, Canadian Auto Press
Photo credits: Karen Tuggay, Canadian Auto Press
Copyright: Canadian Auto Press Inc.