2016 Mercedes-Benz GLA 45 AMG 4MATIC Road Test Review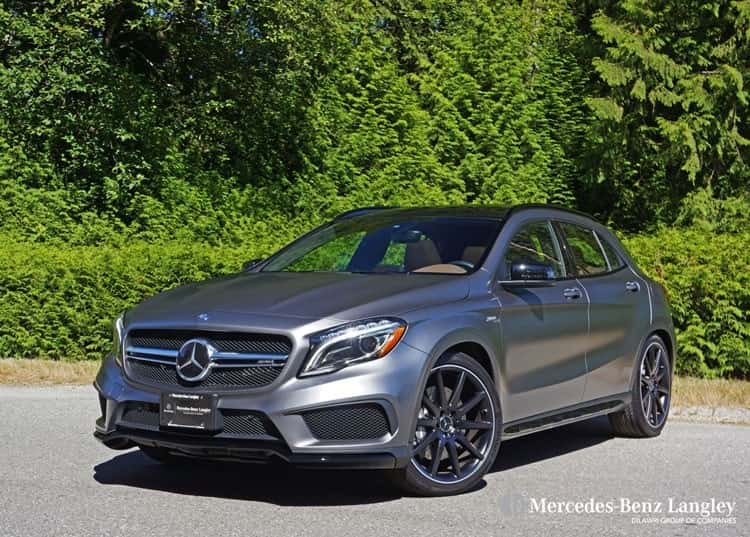 Your street legal rally car is ready
Have you ever wondered what the saying "you can't have your cake and eat it too" means? It seems kind of silly to have a cake you can't eat, but fortunately Mercedes has rectified this oxymoron by mixing SUV practicality with super sports car performance.
The GLA 45 AMG 4MATIC is a veritable rally car in street dress. I'm not exaggerating, the tiny super-ute motivated by the most powerful non-hybrid series production four-cylinder currently available anywhere.
Behind its three-pointed star is a hand-assembled, artisan-signed (mine by "Martin Topt") 2.0-litre air-to-water intercooled, twin-scroll turbocharged four, with a class leading 26 psi of boost. While this had enthusiasts plenty excited when it debuted for the 2015 model, the 2016 GLA 45 has been upgraded by an additional 20 horsepower and 18 lb-ft of torque to an outrageous 375 horsepower and 350 lb-ft, resulting in a 0.4-second briefer mad dash from standstill to 100km/h of just 4.4 seconds when set to the sportiest of its five AMG Dynamic Select driving modes with Race Start launch control enabled.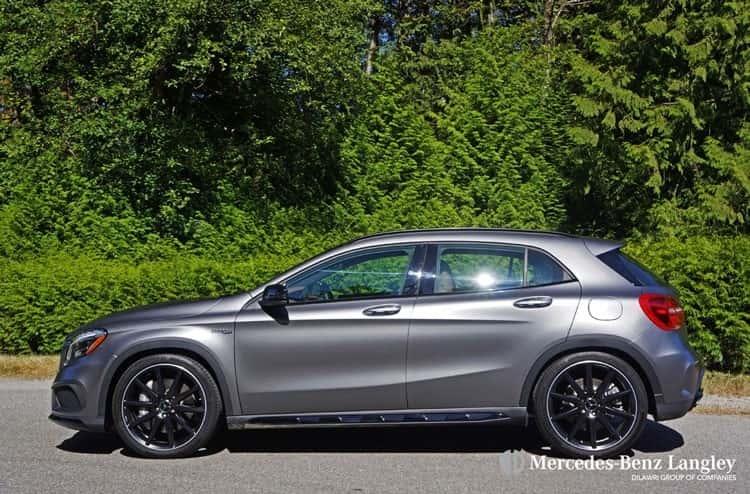 Much of this go-fast goodness comes down to a specially tuned seven-speed dual-clutch automated AMG SpeedShift transmission, complete with rev-matched downshifts that'll make you sound and feel like Lewis Hamilton flicking through the paddles while fast approaching Brooklands after going flat out on Silverstone's Wellington Straight. Big brake rotors enhanced by adaptive technologies joined up with my tester's grippy 235/40ZR20 Continental rubber, scrubbing off speed with shocking immediacy before ideally setting up one fast-paced curve after another, the GLA 45's stiffer sprung, 45-mm lower suspension, torque-vectoring 4MATIC AWD with Dynamic Cornering Assist, and three-stage stability control providing flat, predictable, and ultimately manageable command of the road without any concern of wandering off-line, even at speeds I'd better not mention for fear of self incrimination. There's no way you can do what I just did with this GLA 45 AMG in any competitor, the little Merc in an entirely different league than its Teutonic rivals. And my tester wasn't even upgraded with the AMG Ride Control sport suspension, or for that matter the AMG Track Package that adds a limited-slip diff and increases top speed past the regular model's 250 km/h maximum, while also pampering with microsuede interior accents.
I have to say, while a bit of suede here and additional carbon-fibre there might be nice, the $51,700 base GLA 45 AMG needs no embellishment beyond its stock cabin. Certainly the contrast-stitched Hazelnut Brown leather upholstery and identically detailed Artico leather dash trim from my tester's $2,100 Exclusive package made for a richer experience. Likewise the airy panoramic sunroof, enhanced auto climate control, and impressive infotainment upgrades including a one-inch larger eight-inch display, Android Auto, Apple CarPlay, navigation, MB Apps, a DVD changer, a rearview camera and passive blindspot assist, which all comes as part of the $4,500 Premium package, made for a more sophisticated urban ute, improved even more by $1,000 worth of semi-self-driving Distronic Plus active cruise control, but the GLA's overall sense of occasion would have remained 100-percent intact if none of these features, or any of its multitude more were added, some of which include fore and aft parking sensors, auto Parking Pilot capability, a powered liftgate, plus a number of active safety features such as drowsiness alerting Attention Assist, radar-based autonomous braking, and more.

After initially being wowed by my test model's $2,500 matte-finish designo Magno grey paint, plus all the black glossy trim from its $750 AMG Night package, its stunning $1,000 matte black 10-spoke 20-inch upgraded rims (the base model gets 19s), not to mention the GLA 45's standard twin-blade grille, aggressive front splitter, air deflectors, big AMG-decaled rooftop spoiler, rear diffuser, quad tailpipes, and muscled up hot hatch shape, and then allowed access via $700 optional proximity-sensing Keyless Go, my eyes instantly latched onto the fabulous circular metal vents lined up across the instrument panel, brilliantly interrupting the wonderfully large chunk of brushed metallic inlay ahead of the front passenger.
Despite their artistically X-shaped directional controllers and substantive weighty feel I couldn't just stop at the vents, the flat-bottomed sport steering wheel an aggressive bit of leather-wrapped, metal-edged, paddle-enhanced, switchgear-littered kit that begs for attention all on its own, followed up by a classic two-dial primary gauge cluster infused with 4.5 inches of crisp, clear, high-contrast, colourful multi-info graphics, while the large fixed tablet-style infotainment display atop the centre stack, the myriad buttons across the mid-portion of the latter, the nice and tidy array of knobs, buttons and digital screens making up the dual-zone auto HVAC interface, and the cool bit of leather and metal sculpture that substitutes for a traditional shifter, all deserved respectful contemplation. There's nothing quite like the GLA.
As expected, the majority of surfaces not covered in one of the aforementioned luxe materials was done out in soft touch synthetic, including the door panels from sills to their lower extremities, the padded armrests detailed just like the upgraded dash and seat leather, the latter inherently contoured for comfortable support yet 12-way adjustable for just about any body type, and even fitted with a standard extendable lower cushion and three-position memory.

Spirited is an understatement, with scenery-blurring speed ramping up so quickly it forces absolute undivided concentration, albeit nowhere near the skills needed to slam through 90-degree corners in a real WRC machine, instead the GLA 45 AMG almost driving itself through each bend and every undulating curve. Of course it's a more visceral experience than that, but you shouldn't ever feel out of your element unless you've completely defied the natural laws of gravity, inertia, momentum, friction, centrifugal force, etcetera. Keep a cool, mature head and this little rocket will deliver one hairpin endorphin release after another back road epinephrine rush, even if pavement turns to gravel and its off-road transmission mode with downhill speed regulation is required. Ok, to be clear these last two technologies aren't for rally speeds, but instead intended for low-speed cottage trail crawling and snowdrift ski hill parking lot extraction.
Yes, these are the types of duties all GLAs were made for. Despite its outrageously fun performance and low-slung sport hatch profile the GLA 45 AMG is plenty practical, with comfortable, fairly spacious rear seating that allowed about four inches of nothingness ahead of my knees when the driver's seat was set for a taller person than my five-foot-eight medium-build frame, plus ample foot, hip and shoulder room, as well as three-plus inches of air above my head, while the fully functional rear cargo area is capable of swallowing up 421 litres of life's gear behind its 60/40-split rear seatbacks or 1,235 litres when they're folded flat. Alternatively you can stuff longer items like skis into a centre pass-through, allowing two rear passengers to enjoy the outboard window seats.

Speaking of practical, the GLA 45 AMG 4MATIC may seem rally-bred, but it won't guzzle premium as if it's sponsored by Petronas, the little utility's five-cycle rating a completely reasonable 11.3 L/100km city, 8.5 highway and 9.8 combined thanks partly to an all-wheel drive system that lets the front wheels do most of the walking unless the rears are required, the AMG-tuned unit a tad thirstier than the more comfort-oriented 208 horsepower GLA 250 4MATIC's 8.9 combined rating, but still efficient considering its formidable output.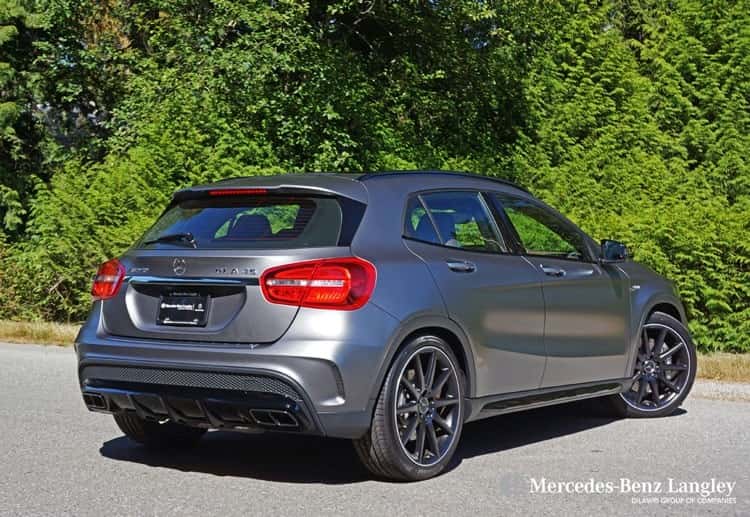 I know, a somewhat pedestrian way to sum up such a dazzling performer, but that's the brilliance of the GLA 45. It's optimally livable yet supremely capable, and easily the most impressive of its subcompact luxury crossover rivals. If speed isn't a priority I'm sure the GLA 250 4MATIC will do just fine, but if heart and mind crave regular stimulus and your lifestyle requires a little more functionality, look no further than the GLA 45.
My advice? Have your cake and eat it. The GLA 45 AMG 4MATIC would be my first choice in its class, without hesitation.
Story credits: Trevor Hofmann, Canadian Auto Press
Photo credits: Karen Tuggay, Canadian Auto Press
Copyright: Canadian Auto Press Inc