2016 Mercedes-Benz Metris Passenger Van Road Test Review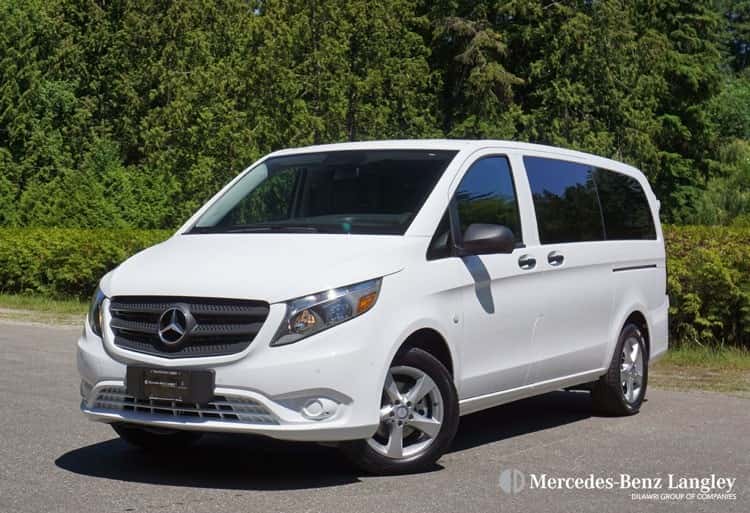 Efficient mid-size model fills most full-size needs with compact running costs
The Metris is something new, both to Mercedes-Benz' commercial division and the market. It's an intermediate or mid-size van that fits neatly between more common compact models and full-size vans like Mercedes' own Sprinter, giving it a unique niche.
To put it into perspective the Metris is dimensionally similar to a modern-day minivan, although at 1,928 mm (75.9 inches) wide it's somewhat narrower allowing easier access to alleyways and loading bays while its 1,910-mm (75.2-inch) height is about 180 mm (7.0 inches) taller than the more car-like family van average, but it can still drive into the majority of parking garages. Measurements even closer to the minivans include the Metris' 5,141-mm (202.4-inch) length and 3,200-mm (126.0-inch) wheelbase, although its rear-drive layout makes it more maneuverable in tight spaces, its turning radius just 11.8 metres (38.7 feet).
The Metris comes in passenger and cargo variants, the former my transport of the day, and while tempted to round up eight of our friends for a rowdy commute to an afternoon Canadians game my photographic partner and I managed to stay the urge. We would've all been quite comfortable, its six rear seats almost as roomy and supportive as the two up front, although after time well spent behind the wheel I've decided the best seat in the house gets saved for the driver. Truly, I think my back felt better after getting out than it did going in.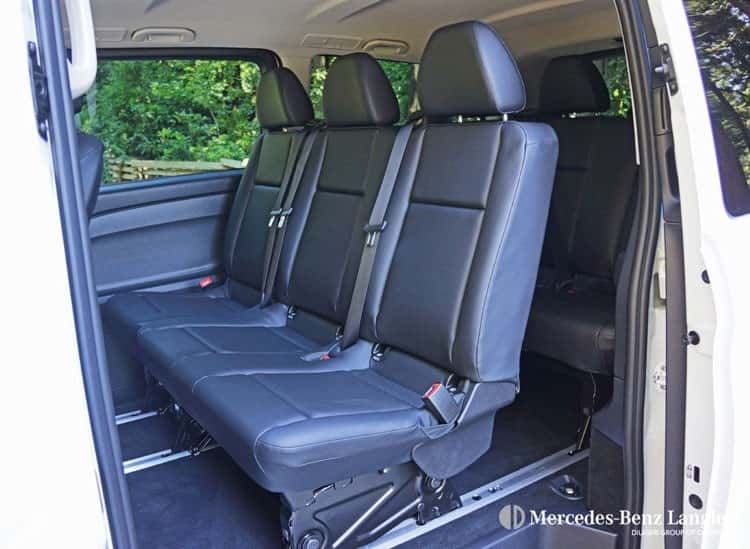 The seating position couldn't be better, upright with a commanding view of the road ahead, ideal visibility out the side and rear too, all controls properly placed for easy reach, the gauges nicely legible, features more than expected in this class, everything exactly the way I'd want if facing 40 hours per week of (hu)man and machine against traffic.
The cabin is a wonderfully unorthodox mix of purposefully utilitarian plastics and seemingly misplaced luxury, Mercedes' usual soft touch synthetic surfaces noticeably missing from a vehicle that wears a three-pointed star on the steering wheel hub, but then as if designed to be Tag Heuer's bespoke delivery vehicle (a combination Carrera Calibre 5 and Carrera Monaco Grand Prix Limited Edition seems about right), what is easily the most attractive primary gauge cluster ever assembled for a commercial vehicle stares out from under the dash hood. Its two black-faced chronograph style dials are rimmed in thick satin silver, as are the two smaller gauges within, while between this duo a high-resolution multi-information display provides useful info via nicely organized, well made steering wheel switchgear, the latter also edged in satin silver. To be clear none of this is standard, but it's available and very good.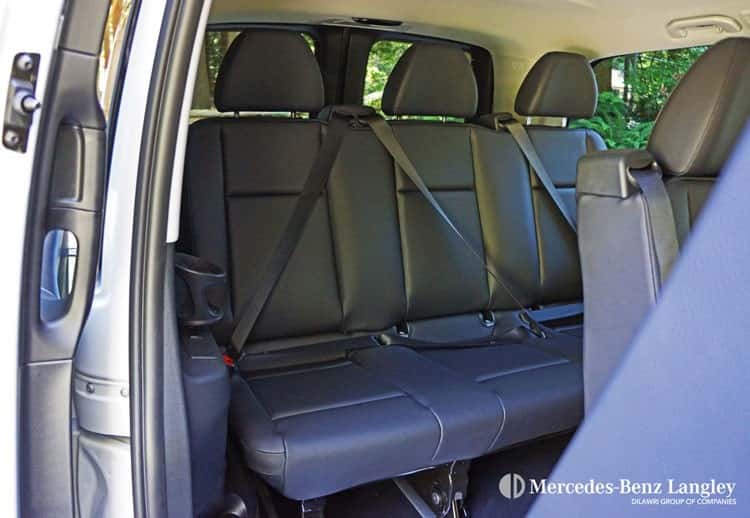 The steering wheel stalks and paddle shifters are standard, mind you, and could be right out of an M-B road car, but then the wheel itself is simple polyurethane instead of Mercedes' usual leather, albeit thick and meaty, ornately dimpled with grippy perforated indentations and sportily shaped with curving thumb spats as if it was destined for an AMG-tuned track star. In comparison the rotating headlight switch is more rudimentary, but a quick glance over to either door panel shows beautifully detailed satin silver for the door handles, three-way seat heater controls, power window switches and surrounding trim.
Over on the centre stack the theme is more black than silver, but between two pads of buttons including a dial for audio, phone and navigation on the left, and a telephone keypad, back button and joystick style toggle to the right, is a nicely sized colour infotainment display, while a simple two-knob HVAC interface just below gets a touch of metallic glitz to visually tie it together with the rest of the cabin, my upgraded Metris a brilliantly juxtaposed yin and yang experience all rolled up in a perfectly utile passenger van that will surely keep any professional driver happy, refreshed and alert all day long.
Upon startup I noticed if you don't fully close any one of its doors, which include the two up front, two side sliders and two rear barn doors, not to mention the hood, you'll immediately get a pictograph warning on the multi-info display that actually pinpoints which door (or hood) was left open.
Under that hood is a turbocharged and direct injected 2.0-litre four-cylinder engine making 208 horsepower and 258 lb-ft of torque, the latter from a mere 1,250 rpm, which when combined with its smooth shifting seven-speed automatic and steering wheel-mounted paddles results in surprising performance for a vehicle that weighs 2,200 kilos (4,850 lbs).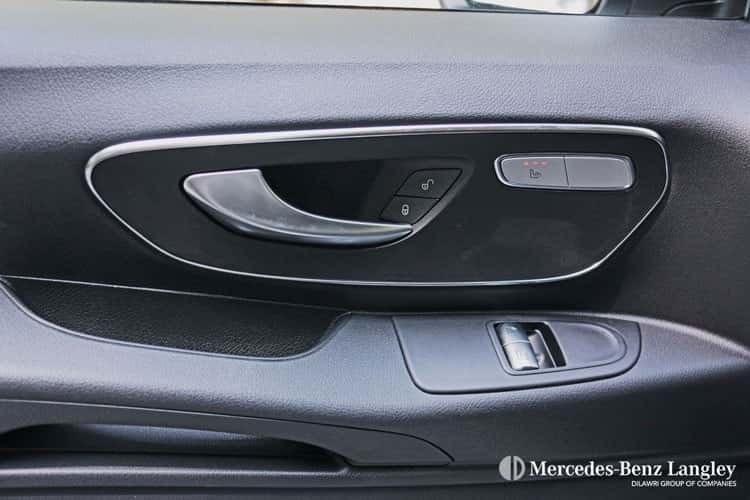 The Metris drives like a Mercedes-Benz, which might sound funny being that it is a Mercedes Benz, but it's a commercial vehicle as well. It starts off with a traditional column stalk shifter, although it's an electronic type that gets pulled down for drive and up for reverse, with a button on its end pushed inward for park. The paddles work the usual way, and while some might want to use them to extract more get-up-and-go I found myself short shifting to improve fuel economy more often than not, the Passenger Van rated at a superb 10.9 L/100km combined city/highway. The Panel Van does slightly better at 10.5, while an optional auto start/stop system helps save even more in the city while minimizing emissions.
Where the Metris mostly feels Mercedes-like is in the ride, which is downright sublime thanks in part to a fully independent suspension. Unlike the powertrain its chassis architecture is a completely unique design only recently developed, and starting from scratch has certainly paid off. It's not only wonderfully comfortable over any type of road surface, the Metris proved solid and planted at higher speeds and even quite agile through quick corners. This will hardly be news to those who've driven the larger Sprinter, but believe me the Metris takes commercial van handling to new levels, which of course is more about accident avoidance than carving up a favourite canyon road.
That in mind the Metris comes standard with the usual assortment of active and passive safety features as well as hill-start assist, tire pressure monitoring, and Crosswind Assist, that latter helping maintain a straight and steady course amid heavy sidelong wind gusts, while active parking assist, forward collision warning, lane-keeping assist, and blind spot monitoring are optional.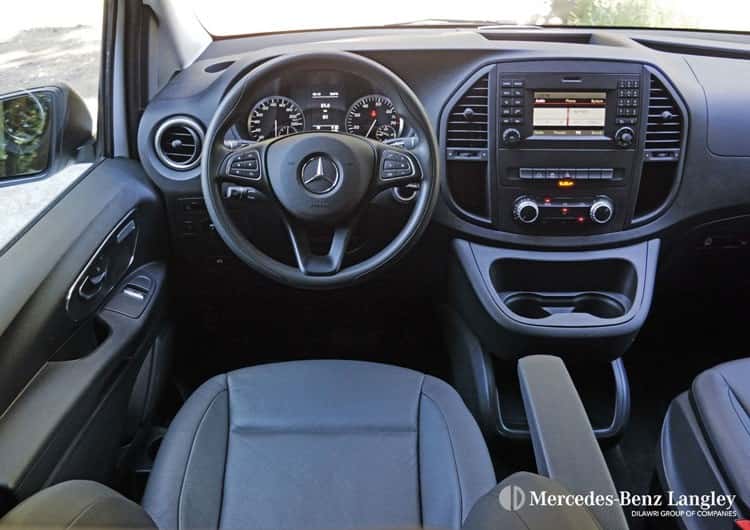 Those rear barn doors mentioned earlier first open to 270 degrees and can then be pushed farther to 180 if pulling up to a loading bay, or alternatively you can opt for a minivan-style liftgate that'll keep passengers and cargo dry if accessing luggage in the rain, while the cargo area behind the third row is sizable at 1,060 litres (38.0 cubic feet). If you were to remove all the seats you could technically accommodate up to 5,270 litres (186.0 cubic feet), which is the maximum load space in the Cargo Van. Keep in mind you can load up to 850 kilos (1,874 lbs) of payload into the Passenger Van, the Cargo Van good for 1,135 kg (2,502 lbs), while both can tow a maximum trailer weight of 2,250 kg (1,960 lbs).
My tester allowed up to eight occupants including the driver, although the base layout reduces that total count to seven. Access to the middle row is as easy as opening one of the side sliders and taking a seat, the tall roof mentioned earlier allowing much easier movement when inside than any minivan. Getting to the rearmost row requires access through the passenger's side after tilting the optional second-row outboard seat upwards and sliding it forward on its metal runners, a process that provides plenty of ingress and egress room. The side doors can be powered like a minivan's, incidentally, allowing your driver to stay seated while picking up or dropping off passengers, increasing efficiency and safety if loading curbside. Once seated there's a lot more space from front to back than a traditional minivan and the backrests are very comfortable. Close those sliding doors or any of the others and they thunk shut with Mercedes' usual solidity, the Metris built to a very high standard.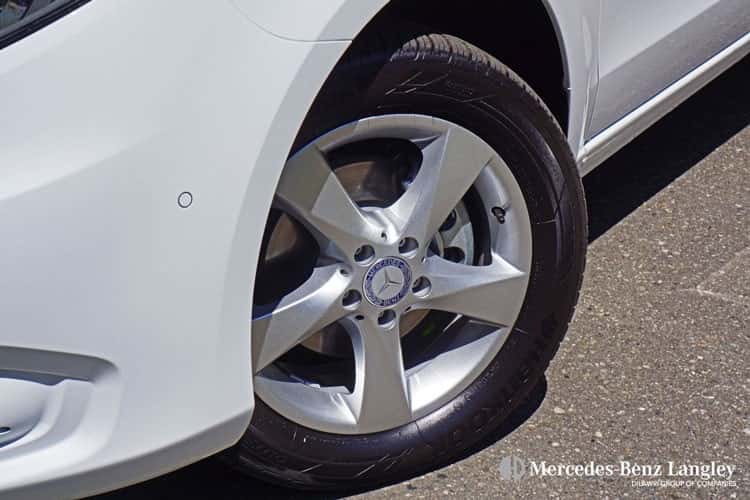 Before delving into yet more options it's probably a good idea to mention some of the $37,900 Passenger Van's standard kit that includes two side sliding doors, an electromechanical parking brake, auto on/off headlights, powered windows, tilt steering, air conditioning, a rear air conditioning unit in the D-pillar, manually adjustable front seats, a 5.8-inch colour TFT infotainment display, five-speaker AM/FM audio that sounds good, a USB port, aux plug, and SD memory card slot, Bluetooth, multiple 12-volt power outlets, rear overhead lights, tinted rear glass, and more.
My tester's Deluxe Appearance package contributed its body-colour bumpers and stylish 17-inch five-spoke alloys, while a Luxury Interior package increased content with a comfort-tuned suspension, front footwell lighting, chrome interior accents, front and rear carpets that are unusually high-end for the commercial class, illuminated vanity mirrors, a really stylish and feature-filled overhead console with a sunglasses holder, luxury trim on the rear doors, and reading lights integrated into the rear grab handles. The upgraded primary instrument cluster mentioned earlier, as well as the trip computer, multifunction steering wheel with cruise control, and centre console with storage joined two additional master keys as part of the Convenience package, whereas the heatable front seats were part of the Cold Weather package that also adds auxiliary heating. Additional extras included leatherette seats, active parking assist, a rearview camera, rear windows with wipers/washers, the flip-up outboard seat on the second row, all-season floor mats, a first aid kit, and more.
Mercedes could have gone further to enhance my Metris loaner's luxury appeal by added the Driving Assistance package that includes heated power adjustable side mirrors, rain-sensing wipers, a leather-wrapped steering wheel, and the aforementioned active safety features, while a Comfort Seat package adds upgraded front seats with lumbar support and seatback storage nets.
You might not realize it by looking at some of Mercedes' competitors, but styling matters in the commercial vehicle sector. After all, your vehicle represents your company's image, which can be a big mobile billboard in the case of a panel van. To that end the Metris is one of the more attractive in its class with a clean, elegant frontal design, a long, lean profile, and neatly squared-off edges that present a modern sense of style, while who wouldn't rather be picked up in a Mercedes-Benz than some volume-branded product, an especially important consideration for those in the hotel business or any other venture that deals in luxury.
As you can probably tell I'm impressed with Mercedes' new Metris Passenger Van. The Metris is simply too good to find fault with, from its overall design, attractive interior, efficient powertrain, fabulous ride, overall roominess, parking friendly maneuverability and dimensions, and the list goes on.
Yes, there's a new mid-size kid in town that's quite capable of taking care of most full-size passenger and cargo requirements while providing the efficiencies of a compact. The Metris might be exactly what your business needs.
Story credits: Trevor Hofmann, Canadian Auto Press
Photo credits: Karen Tuggay, Canadian Auto Press
Copyright: Canadian Auto Press Inc.