2016 Mercedes-Benz Sprinter 2500 Passenger Van Road Test Review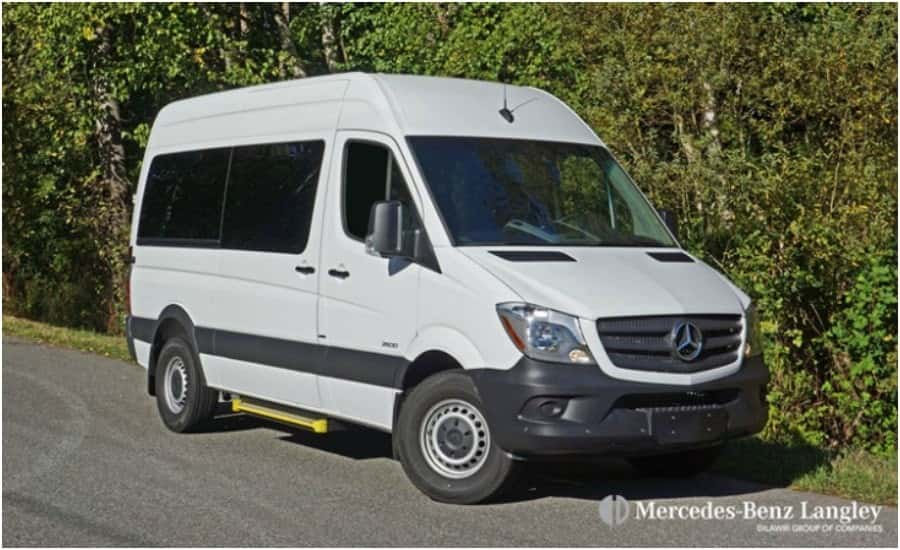 Up to 11 fully satisfied customers at a time
When considering a commercial passenger van, styling or prestige may not be a top priority. Then again, ask your customers which brand they'd like to be picked up in and most would opt for a Mercedes-Benz over something more common.
Fortunately the Sprinter line of full-size vans backs up its three-pointed star and arguably attractive styling with impressive medium- and heavy-duty capability, comfortable well-equipped cabins, powerful efficient engines, and numerous size, body style, window, and seating configurations, so the job at hand can be managed in the most effective, efficient way possible.
Recent changes improve styling and efficiency
The Sprinter, which received a mid-cycle freshening in 2013 for the 2014 model year, not only benefited from a stylish new grille, revised headlights, a reshaped bumper, redesigned lower fascia, modified body panels, reworked taillights, and trim revisions front to rear, but at least as importantly it arrived with a new base engine.
The two-stage turbocharged 2.1-litre BlueTec four-cylinder diesel offers those who don't need as much capability a less expensive, more fuel-efficient alternative to its carryover 3.0-litre turbo-diesel V6. The smaller engine puts out 161 horsepower and 265 lb-ft of torque compared to the six-cylinder's 188 horsepower and 325 lb-ft, plus the 2.1 makes use of Mercedes' seven-speed automatic that includes two additional overdrive gears to improve performance and enhance economy; the V6 utilizes the well-proven five-speed automatic.For the 2015 model year, Mercedes continued to up its Sprinter game with a new segment-exclusive 4×4 drivetrain for V6-powered cargo and passenger models. The 4WD system boasts a 35:65 torque-split between the front and rear axles for considerable off-road capability, aided by 75 millimeters (2.9 inches) of increased ride-height up front and 100 mm (3.9 inches) in back. Also important, 2500 models received standard Crosswind Assist to help mitigate strong side winds.

An impressive assortment of standard features
Now that I've touched on some standard items, Passenger Van features not yet mentioned include automatic daytime running lights, LED brake lights, front and rear mud flaps, privacy glass, keyless entry, an impressively smooth passenger-side sliding door, side mirror turn signals, tilt and telescopic steering, multi-adjustable front seats with flip-down armrests, attractive Tunja Black cloth upholstery, an electric heater booster, quick-responding powerful air conditioning, a warm/cool air duct to the passenger compartment, an outside temperature display, a storage shelf above the windshield, good sounding AM/FM/USB/iPod 13-speaker audio (with five speakers up front and eight in the rear), Bluetooth, a 12-volt power outlet, a front console smoker's package, rear ashtrays, a coat hook in passenger compartment, very comfortable three-position first- and second-row bench seats with lots of legroom, a four-position third-row bench seat, a rear window defroster, 270-degree opening double-wing rear doors with integrated mesh pockets, hill start assist, front and rear wireless tire pressure monitoring, a hydraulic jack, a trailer prep package, all the usual active and passive safety features including dual front, side-thorax and side-window airbags for front occupants, and the list goes on.

Choosing the van you need
I recently covered the Sprinter 3500 Cargo Van and therefore took opportunity to test a Passenger Van this time around. This people hauler is only available with the lighter weight 2500 chassis, whereas the panel van can be had either way. Both were High Roof 144WB (144-inch wheelbase) models, but of course the Passenger Van is finished to a higher standard in back, with nicely finished roof pillar, sidewall and door panels, windows all-round, and a fully enclosed roofliner, but there are no differences up front.
You can purchase a 2016 Sprinter Passenger Van for as little as $49,500 plus freight and fees, which gets you a 2500 144WB model with a Standard Roof height, meaning your passengers will need to crouch a bit while finding their seats. Spending $52,100 upgrades the same van with the as-tested High Roof, allowing easy upright movement within, which is much more suitable for shuttling elderly clients and/or those with disabilities. Mercedes also makes the same height with a longer 170-inch wheelbase starting at $55,500, just in case the standard-length High Roof model's 2,290-litre (80.9 cubic-foot) cargo area isn't large enough for your needs and 5,388 litres (190.3 cubic feet) is required. As for payload, you can haul a maximum of 1,319 kilos (2,907 lbs), which should take care of 11 peoples' luggage and then some, while the Passenger Van's GVWR is 3,878 kg (8,550 lbs).

Details finished with better than expected quality
If you've driven a Mercedes car or SUV you might notice some similarities inside this van, including the well-made power window switches, the optional multifunction buttons on its metallic trimmed steering wheel, stylish chrome trim surrounding the primary instrument dials, the stitched leatherette shifter boot, the colour infotainment system, and the HVAC interface, this latter item using very similar rotating temperature dials to some of Mercedes' entry-level cars. Still, the functions are simpler than the road cars, and cabin designed for durability over luxury, as it should be.
The driver's seat is certainly comfortable, while the Passenger Van's surrounding windows improve visibility over the Cargo Van, although I found myself relying on the big side mirrors anyway. It's an easy van to manoeuvre through tight spaces, no problem in heavy traffic and a breeze on the highway, the aforementioned Crosswind Assist truly helpful when heavy wind gusts could otherwise upset the broadsided machine.
Plenty quick and easy to drive
My tester was outfitted with the larger V6 engine, and its substantive torque made light work of most any task. It takes off quickly, although it's the smoothness of the powertrain that's most impressive, the five-speed auto a very nice match to the engine. Once underway the big Sprinter continues to accelerate with ease and swaps through its gears almost unnoticeably, with plenty of passing power still available at higher than posted freeway speeds. The Sprinter's brakes are strong too, while the big van's surprisingly skillful handling defies its sheer size, height and mass, the Sprinter feeling much smaller than it actually is.

No shortage of options
This commercial-grade Mercedes truly is a refined package, but options make it even nicer. For example, my tester came with a $670 Convenience Package that added a multifunction steering wheel, a trip computer, cruise control, a hinged lid for the centre console storage compartment, and two additional master keys; a $2,040 Driving Assistance Package that added auto on/off headlamps with auto high beams, rain-sensing wipers, heated and power-adjustable side mirrors, heat-insulating front glass with a windshield band, collision prevention assist, blindspot assist, lane keeping assist, and an overhead console with dual reading lamps; an $840 Passenger Comfort Package with illuminated exits, a convenience light in the cargo/passenger compartment, a two-stage sliding door opening, an assist handle on the sliding door B-pillar, plus aisle- and wall-side armrests for the rear bench seats; a $1,410 powered sidestep below the sliding door; a $230 fixed step for the rear door; $980 front and rear parking sensors; and more.
There's much more available of course, with additional option groups including a $1,030 Deluxe Appearance Package that adds a chromed grille and alloy wheels; a $1,160 Bi-Xenon Headlamp Package that includes HID headlights with cornering capability and headlamp washers, plus halogen fog lamps; a $420 Comfort Seat Package for the two front occupants; a $420 front Heated Seat Package; and a $1,050 Rear Heating Package that adds an additional heat exchanger and more insulation for the front and rear compartments.
Of note, many packaged items are available individually, while additional standalone highlights include black leatherette front seats, a rearview camera, a reverse warning system, Becker Map Pilot navigation, cupholders under the three-seater bench seats, high-output air conditioning in the passenger compartment, rear window wipers and washers, roof rack mounting rails, and much more.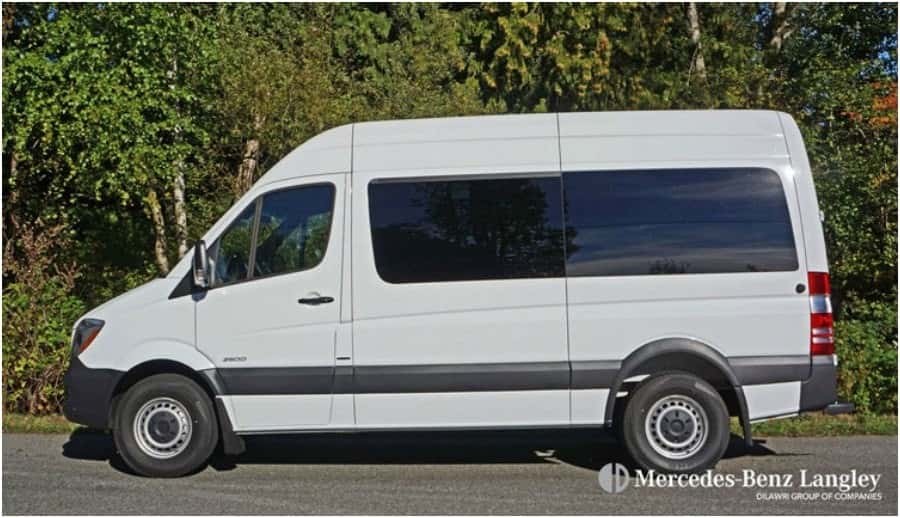 Plenty of reasons for choosing a Sprinter
There are a lot of good reasons to consider a Sprinter Passenger Van, but an especially compelling one is its value proposition. For starters, it's competitively priced when compared to immediate rivals, while equally important is resale value, the Sprinter earning the Canadian Black Book Best Retained Value award for six consecutive years since 2010. Mercedes also claims average fuel economy of 7.7 L/100 km with the base engine, while both powertrains are warranted for 60 months or 160,000 km. No doubt these attributes helped the Sprinter achieve Vincentric's Best Fleet Value in Canada award in the full-size commercial van segment four years in a row.
Merely going over the facts and running the numbers will help anyone appreciate the Sprinter's many qualities, but I recommend spending some one-on-one time with something like this 2500 Passenger Van or one of its other body styles, as you'll likely be very impressed. It's a good looking, great driving, comfortable, safe, well-built, respectable conveyance that your clients will be happy to see arriving just for them, and in the end aren't satisfied customers what matters most?
Story credits: Trevor Hofmann, Canadian Auto Press
Photo credits: Karen Tuggay, Canadian Auto Press
Copyright: Canadian Auto Press Inc.