2016 Mercedes-Benz Sprinter 3500 Cargo Van Road Test Review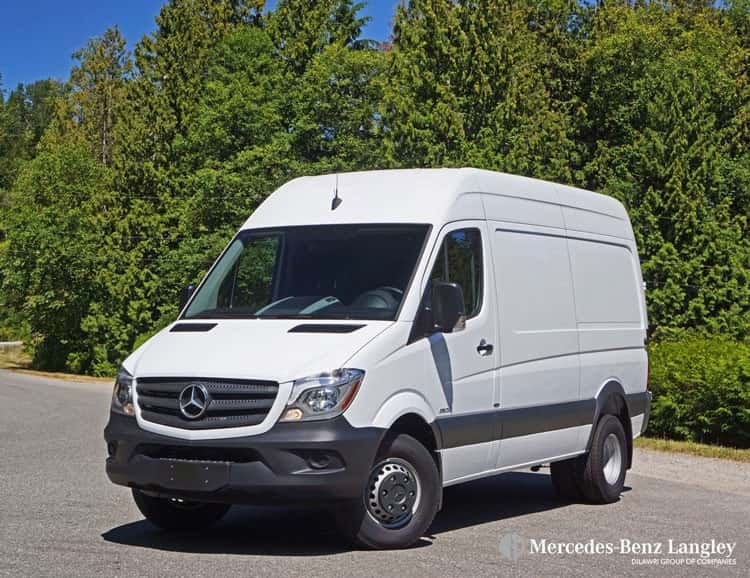 The one that started them all retains best value
I don't know about you, but I find Mercedes' Sprinter the best looking full-size commercial van on the market. Before questioning why that might matter, let's not forget your company fleet acts like a rolling billboard advertising campaign and therefore can often be the first opportunity you have to make a good impression with future customers, so looking good matters a lot.
The Sprinter remains fresh since receiving a mid-cycle makeover in 2013 for the 2014 model year, the facelift adding a deeper more attractive grille, modified headlamps, a reworked bumper and lower fascia, plus updated body panels, revised taillights and new trim front to back, while even more importantly an entirely new two-stage turbocharged 2.1-litre BlueTec four-cylinder diesel was added as the entry-level option below the 3.0-litre turbo-diesel V6 that was carried over from the previous generation, the smaller engine providing much improved fuel economy.

The new four makes 161 horsepower and 265 lb-ft of torque while the V6 continued with 188 horsepower and 325 lb-ft of torque, while the smaller engine received two more gears to help it get off the line quicker and enhance highway fuel economy, that being a seven-speed automatic with two overdrive gears compared to the V6 model's more conventional five-speed unit.
On top of all these improvements Mercedes followed up the following year with a new class-exclusive push-button, driver-selectable 4×4 drivetrain for V6-powered models, featuring a 35:65 torque-split between the front and rear axles and serious off-road credentials enhanced by a 75-mm increase in ride-height up front and 100 mm in the rear, while Crosswind Assist became standard with 2500 models and other small updates were added across the line. After all the changes leading up to it, this 2016 model year is pretty much steady as she goes.

Therefore, the Sprinter's powertrains are carryover from the two previous years, while it also remains available in both 2500 and heavy-duty 3500 weight classes. Standard features include keyless entry, a smooth operating passenger-side sliding door, integrated side mirror turn signals, tilt and telescopic steering, multi-adjustable front seats with flip-down armrests, nice looking Tunja Black fabric upholstery, an electric heater booster, fast reacting and powerful air conditioning, an exterior temperature display, a handy storage shelf above the windshield, decent sounding five-speaker audio, crosswind assist, hill start assist, tire pressure monitoring, a hydraulic jack, a trailer prep package, and more.
I'm not going to focus on the 4×4 vans or for that matter the Passenger or Cab Chassis body styles with this review, but rather the Cargo Van 3500 High Roof 144WB (144-inch wheelbase) I drove. At $46,900 plus freight and fees it starts out $2,400 higher than the lighter duty $44,500 2500 model with the same wheelbase and tall body, and $5,000 more than the identically long albeit considerably shorter 2500 Standard Roof van. There's a 170-inch wheelbase version available with either the High Roof or Super High Roof that ranges from $47,400 to $55,450 (the priciest EXT has an extended rear cargo area as well), so any worries that Mercedes doesn't have your needs covered should be put to rest.

Despite being a work truck Mercedes finishes off the interior quite nicely. It makes sense, because many components appear to be plucked from the lower end of its car line. Notable details include high quality power window controls, the optional multifunction switchgear on its metallic trimmed steering wheel, the nice chrome detailing around the instrument cluster dials, a stitched leatherette shifter boot, nice quality colour infotainment and HVAC interfaces, the latter utilizing very similar rotating temperature dials to its car line, and the list goes on.Oddly this model has a rearview mirror that stares into nothingness, so the driver who eventually gets this van may want to hang a scenic painting on the wall divider for some comic relief when traffic challenges get out of hand. Fortunately the side mirrors are plenty large and feature convex secondary mirrors for greater visibility down each side, while the view out the front and side windows is superb thanks to the Sprinter's expansive glass and tall ride height.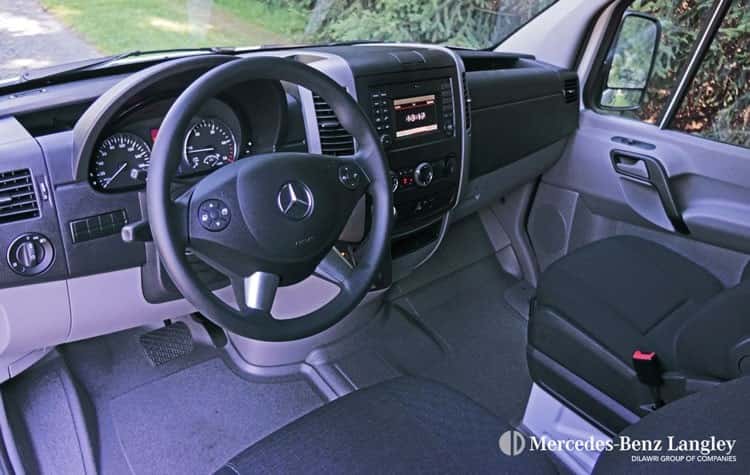 That full partition is a $320 option by the way, while the aforementioned multifunction steering wheel came as part of a $670 Convenience package that also included and a classic looking orange pixel-matrix display between the gauge cluster dials, a trip computer, cruise control, a 12-volt power outlet in the driver's seat base, a hinged lid for the centre console storage compartment, and two additional master keys. The infotainment display is standard, but the rearview camera within was $740, the cab also getting $195 floor mats, while behind that divider a $740 Extended Cargo package added sidewall lashing rails on the waist rail, upper cargo lashing rails, a load securing rail system, tensioning straps, and lashing rail straps.My tester came in ultimately base Arctic White paint, but astonishingly you can choose from 23 different colours if white's not your thing, many at no charge and others from only $640 to $1,160 extra, while you can also get durable black leatherette upholstery for a mere $100.If you think that's it for options you'd better grab a coffee and take a good long scroll through Mercedes' commercial website because you'll be there awhile, the choices including a chrome grille, auto on/off headlamps, adaptive cornering HID headlamps, auto high beams, fog lamps, fixed side windows, rear windows, windows all around, deep tint for those windows, a window for the cab partition (so you can use that mirror), a driver's side sliding door, heat-insulating glass with a windshield band, heatable powered side mirrors, rain-sensing wipers, parking sensors (I'd opt for these), blindspot assist, lane keeping assist, collision prevention assist, a high-output front HVAC system, navigation, comfort seats, fabric-wrapped A-pillars, an overhead console with two reading lamps, a fixed glass sunroof, powered steps for the side sliders, three extra seats in the back, rear heating, heatable seats, suspension seats, swivel seats, additional insulation for both front and rear compartments, washable cargo walls, additional cargo lighting, cargo steps, grab handles, roof rails, roof rack cross members, a motion detecting security system, numerous upgraded suspension components, and much more from both standalone options and a packaged up menu.
Yes, some of those features are downright luxurious, while Mercedes seemed to pull the Sprinter's suspension from its lineup of premium cars as well. It's surprisingly compliant for a heavy-duty commercial van, this not only important for anyone aboard but also helpful to keep cargo in place when traveling over rough pavement. It didn't hurt that the base seats were so comfortable, especially for the lower back, and while DIY manual controls were needed to find my ideal position they were easy to use and provided plenty of options.
Even more surprising than the Sprinter's comfort quotient was the reaction to throttle input and overall power delivery of its four-cylinder turbo-diesel. It's a smooth, quiet engine even at takeoff, while it really gets a move on when asked to perform. Again it remains quite hushed when pushed, the little engine feeling more like a big V6 than a 2.0-litre four. It's amazing to think my as-tested version is capable of a 1,980-kilo (4,367-lb) maximum payload (the Sprinter's payload range spans 1,563 to 2,498 kg/3,446 to 5,507 lbs), while it can also tow a 3,402-kg (7,500-lb) trailer and its max GVWR is a sizeable 520 tonnes (11,030 lbs).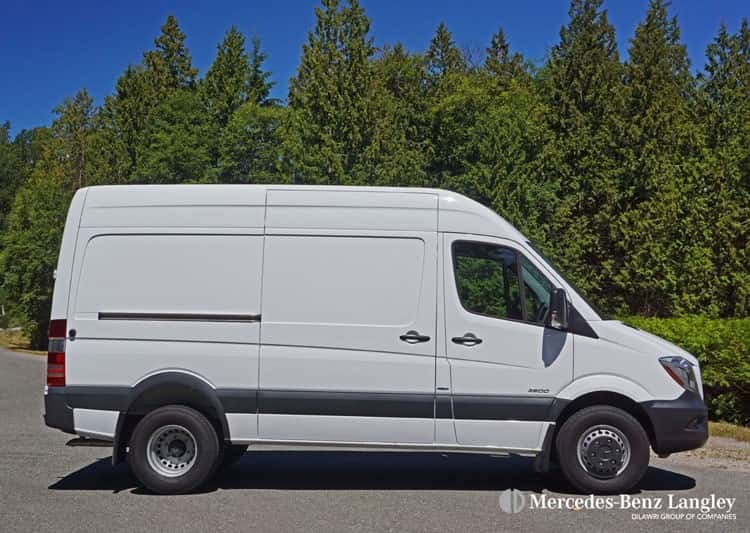 All this is impressive, but one of the most compelling reasons for choosing a Sprinter over any rival is value. First off it's competitively priced, Mercedes charging no premium for its three-pointed star, while at least as importantly the Sprinter has taken home the Canadian Black Book Best Retained Value award for six years straight since 2010. Add to this an attractive powertrain warranty of 60 months or 160,000 km and it starts looking difficult to pass up, while making it even more tempting are large discounts for buying a 2016 model this late in the model year.Whether you're looking for a single addition to your one vehicle fleet or managing a large convoy, the Sprinter is a smart choice. It delivers good premium-level looks, is easy to drive, powerful, fuel efficient, very capable for hauling and towing, well stocked with standard and optional features, and best in class for retained value, that last point being all you probably need to know.
Story credits: Trevor Hofmann, Canadian Auto Press
Photo credits: Karen Tuggay, Canadian Auto Press
Copyright: Canadian Auto Press Inc.