2016 smart ForTwo Coupe Passion Twinamic DCT Review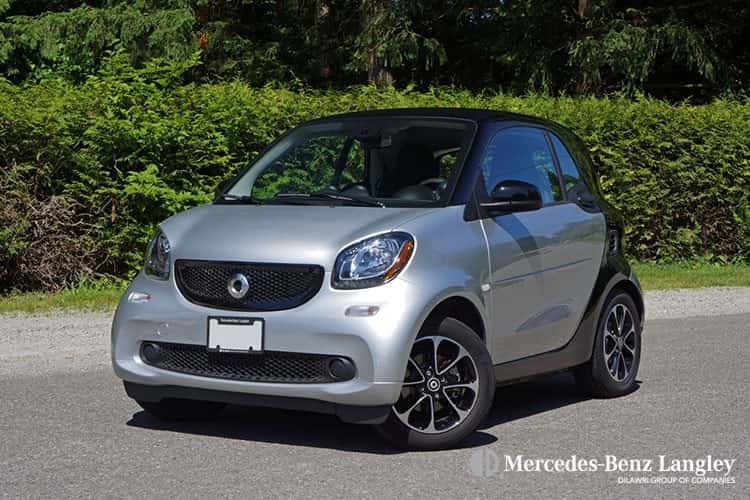 Roomier and even more fun to drive
With 100 mm of added width the entirely new for 2016 Fortwo is significantly roomier inside, this just one improvement of many.
The new Fortwo gets a new look to go along with its expanded footprint, plus an updated interior, improved powertrain, and the list goes on, smart in hopes this reinvented model captivates Canada's eco-minded buyers as effectively as the original did a dozen years ago, and after a first drive I must admit they've made a convincing argument for going small.
My tester was outfitted in mid-grade Passion trim, the base Pure just below and top-line Prime above. No matter how you trim it out the Fortwo continues as Canada's smallest four-wheel street legal car, its length identical to its predecessor at 2.69 metres so it can be parked perpendicular to curbs in jurisdictions that allow such efficiency.
Efficiency in mind, the new Fortwo remains one of Canada's most frugal non-hybrids with a five-cycle rating of 7.5 L/100km city, 6.1 highway and 6.9 combined, but owners should be even happier with its smaller yet more energetic turbocharged 898 cc three-cylinder engine that increases output by 19 horsepower and 32 lb-ft of torque resulting in 89 of the former and 100 of the latter, which means the rambunctious little tot now needs a toddler leash to keep it in check.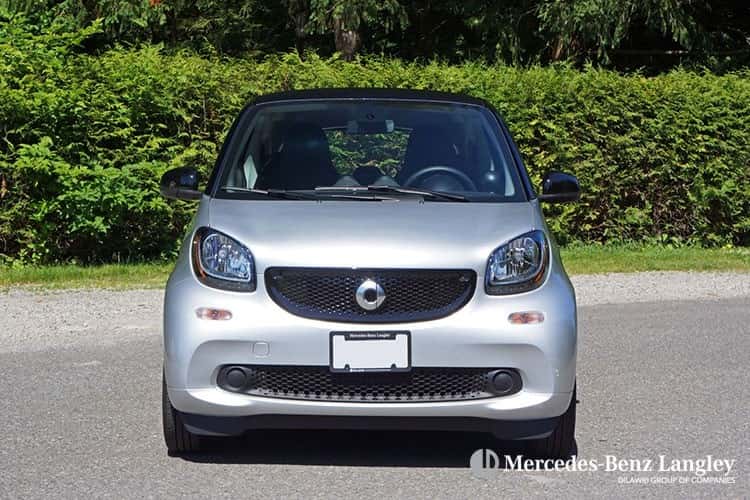 Thanks to a sprite 900-kilo curb weight it's plenty quick off the line, zipping away from standstill with near electric immediacy and getting up to speed much quicker than any previous smart car I've tested, the official zero to 100km/h sprint time being 10.4 seconds with its five-speed manual and 10.7 with the as-tested Twinamic DCT, while its top speed is set to 155 km/h, making it fast enough for Germany's autobahns let alone your local freeway.
DCT stands for dual-clutch transmission, the same type of fast reacting gearbox performance car manufacturers use to get the most out of their quickest cars' powertrains. While appreciated by enthusiasts, dual-clutch transmissions can produce slightly more abrupt shift intervals than regular automatics, but I must say this new DCT is a great deal smoother than before. Manual shift capability is still part of the package, as are Eco and Sport modes, which the little engine even blips on downshifts.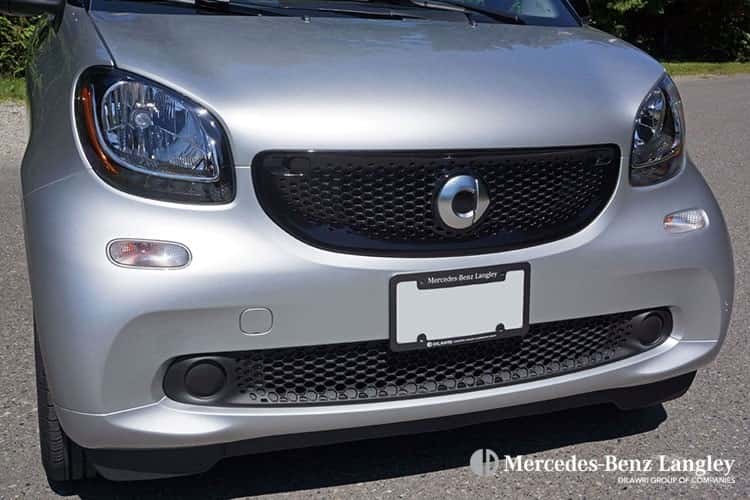 smart's speed-sensitive variable ratio steering provided reasonably good feedback, partly due to the car's rear-engine, rear-drive layout that frees the steering from the mechanical pull alternatively incurred by front-drive cars. RWD also contributes to the Fortwo's astonishingly small turning circle. It held its own when pushed hard into corners and was an enjoyable highway companion, feeling comfortable and confidence inspiring at high speeds thanks to a surprisingly smooth ride. Braking is also very good with a nice progressive action, while panic stops resulted in quick, controlled response.
While the top-line Prime model gets auto on/off headlamps, LED taillights, unique 15-inch alloys, rain-sensing wipers, leather upholstery, heatable seats, a panoramic sunroof and other premium features, my Passion was slightly more down to earth with a standard list that includes LED driving lights, upgraded gloss black, white or silver grille trim, mirror caps finished in the same colour as the exposed Tridion safety cell, the availability of that safety cell in black, white or silver, a different albeit still attractive set of machine-finished 15-inch alloys, the option of dash top, door inserts and seat upholstery in black, grey or a very cool orange, the addition of a leather-wrapped steering wheel and shift knob, matte chrome interior door handles, a glasses compartment for the driver, a smartphone cradle that works together with smart's Cross Connect app for iOS and select Android phones, plus more.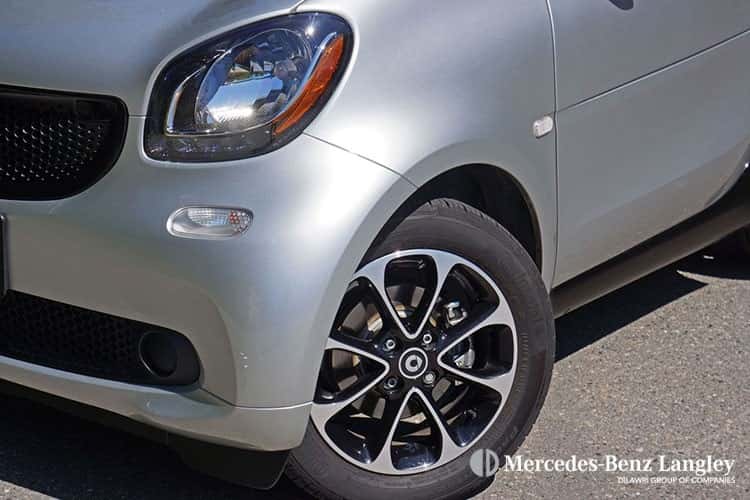 My tester included optional heated seats, heatable powered side mirrors, cargo cover, metallic paint and DCT, all of the above pushing the $18,800 Passion up to $21,215 before adding freight and dealer fees. Alternatively, base Pure trim starts at just $17,300 and Prime trim at $20,900, the latter priced lower than my as-tested Passion, but keep in mind that model can be optioned out with similar extras to my loaner and therefore will be costlier when loaded up.
I should also mention that both upper trims can be had with a seven-inch touchscreen infotainment upgrade featuring navigation and more, plus a Sport package with a lowered suspension, unique 16-inch alloys, chrome exhaust, stainless pedals, and paddle shifters. Standalone extras include ambient interior lighting, forward collision warning, and tire pressure monitoring.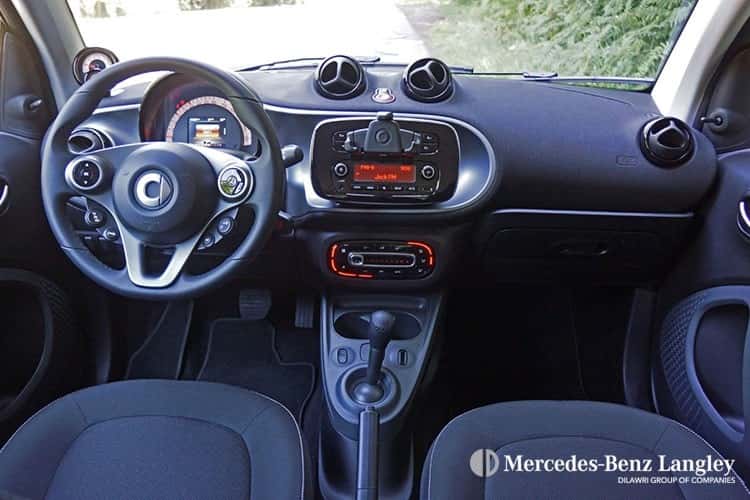 Back to the Passion's standard list, additional features get pulled up from the base model including its steering wheel switchgear with cruise control, 3.5-inch colour TFT multi-information display featuring an eco score meter and fuel consumption histogram, auto HVAC, Bluetooth audio streaming, fully-folding front seatback, alarm, full array of active and passive safety equipment including airbags for both occupant's knees, etcetera.
Safety in mind, the Tridion just mentioned makes for an extremely rigid passenger compartment, although this new model has yet to be tested by the IIHS or NHTSA. Last year's model held up well in NHTSA crash tests, however, its side-impact results a best possible five stars, while frontal and rollover tests were good at four stars apiece. Of interest, during the previous model's launch program smart used the example of short and long aluminum ladders to help us understand how something smaller could be stronger, the longer ladder twisting much easier, and the same scenario appears to play out with the Fortwo's tiny but ultra-stiff high-strength steel intensive body structure.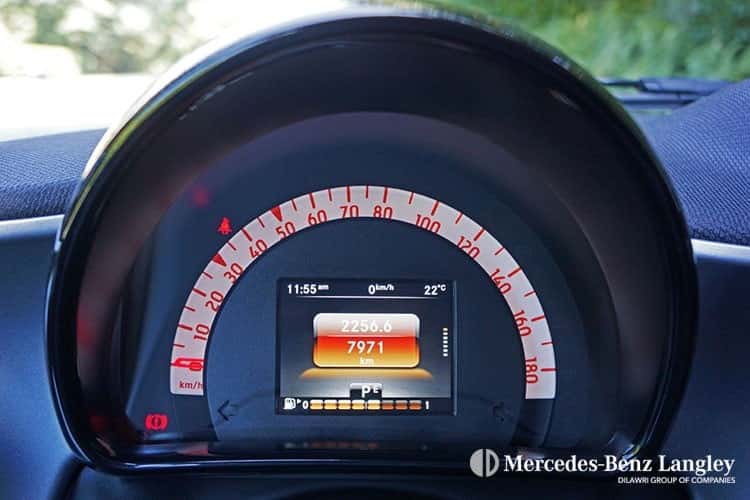 The classic split cargo door likely helps with rear crashworthiness too, the bottom portion folding down for a tiny tailgate capable of 220 kilos of what-have-you, and the upper glass allowing quick access. With both seats occupied you can easily stow a weekend's luggage, smart claiming 190 litres behind the front seats and 350 litres when the front passenger's is flattened. It's nicely finished in back too, the tailgate getting a thick plastic backing and the rest of the area carpeted.
Likewise passenger compartment materials are a mix of durable plastics and softer surfaces, the entire dash covered in an really nice thick mesh fabric while the seats and door inserts were finished in a finer woven cloth, the former with grey contrast stitching. The look is sporty, highlighted by some piano black lacquer and aluminum highlights plus well made controls.
I found myself more taken by its overall interior design, the dash a joyful combination of protruding pods starting with the primary instruments, its main speedometer and multi-information display combo bulging upward to form a large semicircle and tachometer/clock dial poking up out of the left side dash top like some Star Wars droid. Four dash vents continued the circular theme, while the audio interface followed the elevated tablet-style trend. Its controls were easy to use and the stereo quite good.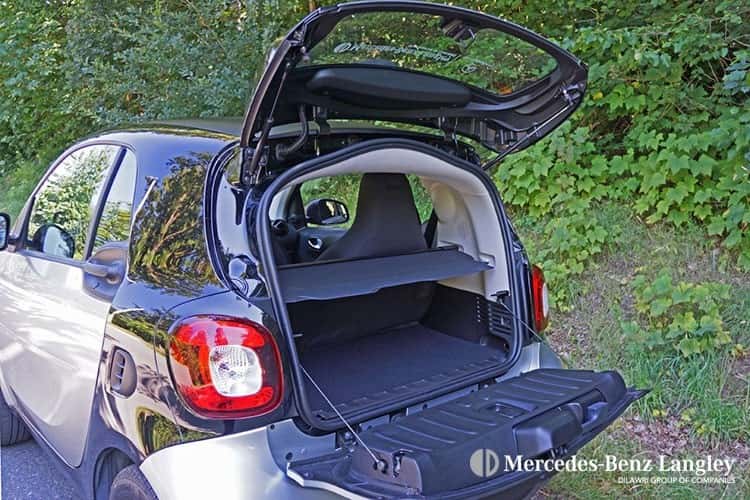 The single-zone auto HVAC interface just below was my favourite design element, as it looks like an old-style radio. It features a unique slider that magnifies a given temperature as it slides across, a cool retro design that worked well too.
Design in mind I haven't mentioned anything about styling because you'll either love its pug puppy looks or you won't, I for one liking this masculine shape more than the softer lines of the last one.
Actually, there's a lot to like about the latest Fortwo. I certainly enjoyed driving it, and loved parking it. It continues to command attention despite its diminutive size, or more likely because of it, while making a positive environmental statement about its owner.
Story credits: Trevor Hofmann, Canadian Auto Press
Photo credits: Karen Tuggay, Canadian Auto Press
Copyright: Canadian Auto Press Inc.