2016 smart Fortwo Pure Road Test Review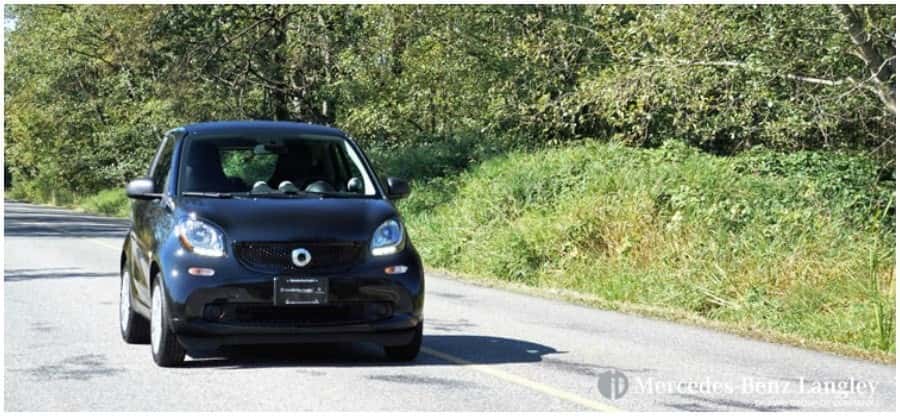 Tiny smart car big on standard features
If you've always wanted to make a smaller environmental footprint, now's the time. smart has completely redesigned its Fortwo and it was worth the wait. Along with a tougher more assertive look, a new and improved interior, plus better driving dynamics it's also larger.
Still tiny but bigger than before
It gains 100 mm from side-to-side yet it's still Canada's smallest four-wheel car at a mere 2.69 metres long, which is identical to its forebear. It remains a two-seater that's surprisingly capable of accommodating very large adults comfortably plus a sizeable cargo haul of 190 litres in back when both seats are in use, or alternatively a maximum of 350 litres when the front passenger's seat is laid flat. smart also retains the Fortwo's handy split cargo door that combines a pop-up glass hatch with a useful pickup truck-style tailgate, the latter capable of temporarily holding up to 220 kilos of cargo.
Light curb weight makes for great efficiency and quick takeoff
The Fortwo's micro size makes for an ultra-light 930-kilo car that's about as fuel-friendly as gasoline-powered conveyances get, at a claimed 7.5 L/100km city, 6.1 highway and 6.9 combined. These numbers are close to outgoing model's five-cycle rating despite significant performance gains, the Fortwo's turbocharged 898 cc three-cylinder adding 19 more horsepower and 32 additional lb-ft of torque for a new total of 89 horsepower and 100 lb-ft, which means you'd better get a slip collar to keep this little pup from running amok.



It certainly feels quicker off the line, while official numbers have the as-tested five-speed manual at 10.7 seconds from zero to 100km/h and Twinamic DCT autobox at 11.1, with a top speed of 155 km/h. The new model sprints nearly twice as fast as the first diesel-powered Fortwo I tested in 2005, by the way, which could only manage 19.8 seconds to 100km/h, and certainly more rambunctious than the first gasoline version of the previous generation I first drove at its official San Francisco launch in 2008, which zipped to 100km/h in just under 13 seconds, so hats off to smart for making fuel-efficiency more fun.
Five-speed manual or DCT automatic?
My tester was outfitted in base Pure trim, with the mid-grade Passion just above and Prime on top of that. No matter the model a five-speed manual is standard, and it's a nice little gearbox with good positive engagement and sporty response. The dual-clutch DCT, on the other hand, is hardly a drag on performance while it's much smoother than the previous incarnation and provides plenty of hands-on action via standard manual shift capability plus Eco and Sport modes. Therefore your choice will come down to the 0.4 seconds of immediate acceleration, the DIY feel of the manual compared to the convenience of the auto, plus of course the DCT's $1,400 price bump.
Either way you'll love the smart's maneuverability and handling, the former aided by one of the tightest turning circles I've experienced this side of a mini-bike, and the latter fun through the corners. The previous Fortwo was a decent handler too, but the extra width of the new model really makes a difference when pushed hard, the result being surprising agility and very good highway manners thanks to standard Crosswind Assist, important with such a tall, lightweight vehicle. Both curves and straights are made yet more enjoyable when the wheels are upgraded from the standard steel 15s to optional 15- and 16-inch alloys, the steel wheels found on this entry-level tester and the latter experienced with a Sport package-enhanced Passion example I drove a few months ago.
Lots of style for the subcompact class
That was a nicely kitted car, but even this base model wasn't anything to be embarrassed about. The wheels were furnished with decent looking covers, and while I must admit it's strange to see a smart with its Tridion safety cell painted body-colour and entirely black to boot, the monotone colour scheme adds to its overall newness.



The mostly black interior was well put together and better finished than the majority of economy cars too, including soft touch surfaces no less. These aren't the usual synthetics, but rather a stylish thick mesh fabric that covers much of the dash top and instrument panel, whereas the door inserts receive a similar fine woven fabric to the seats.
Fortunately smart added a little salt to the pepper with some white lacquered trim on the primary gauge cluster's hood, the pod-like tachometer/analog clock that juts up out of the dash to the left, and all the circular front vent bezels, while black lacquer was used for the tablet-style infotainment interface and cool retro-looking single-zone auto HVAC controls below. The switchgear is all good and leather-wrapped, metallic topped shifter a nice touch.
No shortage of standard features
The smart Fortwo starts at $17,300 plus freight and fees, which is reasonable considering its features and technology. Really, there's nothing quite like the Fortwo. The parking options it opens up are worthy of ownership outright, while its more upscale than average interior comes with a few more standard features devoid on competitive base models, such as the cool interior design itself, an upscale digital primary gauge cluster incorporating a 3.5-inch colour TFT multi-information display with an eco score meter and fuel consumption histogram, powered windows (with auto up/down no less), steering wheel controls for voice command, audio, and cruise functions, Bluetooth hands-free with audio streaming, aux and USB inputs, a good sounding stereo, automatic climate control, a centre console with a pullout compartment, a rear hatch power-release, the aforementioned fully-folding front seatback, an alarm, a full assortment of active and passive safety features including airbags for both occupant's knees, and more.
Luxury level of options
Most of the Fortwo's challengers can't be equipped as nicely either, with available upgrades including auto on/off headlamps, LED driving lights, LED taillights, heated and powered side mirrors, rain-sensing wipers, a leather-wrapped steering wheel, a seven-inch infotainment system featuring a parking camera and navigation with mapping, leather upholstery, heatable seats, a panoramic sunroof, and a cargo cover.



Additionally you can individualize your ride with gloss black, white or silver grille trim, mirror caps finished in the same colour as the exposed Tridion safety cell, the availability of that safety cell in black, white or silver, various alloy wheels, the option of the dash top, door inserts and seat upholstery in black, grey and even bright orange, matte chrome interior door handles, a glasses compartment for the driver, a smartphone cradle that works together with smart's Cross Connect app for iOS and select Android phones, and the list goes on, while there's also an all-new Fortwo Cabrio arriving for the 2017 model year and, if you really want to save the planet and cash at the pump simultaneously, an updated Fortwo Electric Drive is on the way.
Safety is key
A Fortwo story that doesn't always get told is safety. The Tridion cell provides a very rigid passenger compartment, although this new model has yet to be tested by the IIHS or NHTSA. Last year's model held up well in NHTSA crash tests, however, its side-impact results a best possible five stars.
Interestingly, as part of the previous model's launch program, smart used the example of short and long aluminum ladders to help we journalists understand how something smaller could be stiffer and therefore stronger, the longer ladder twisting much easier under pressure. The same scenario plays out with the Fortwo's tiny but ultra-stiff high-strength steel intensive body structure, but of course it's even more rigid than a ladder due to it's fully enclosed protective cage design.
Even in its most basic Pure trim line it's hard not to like the little smart. It comes very well equipped, it's fun to drive, is ultimately easy to park, is thrifty with fuel, and it offers more than enough room for two adults and their gear. That it's also as cute as a pug puppy seals the deal.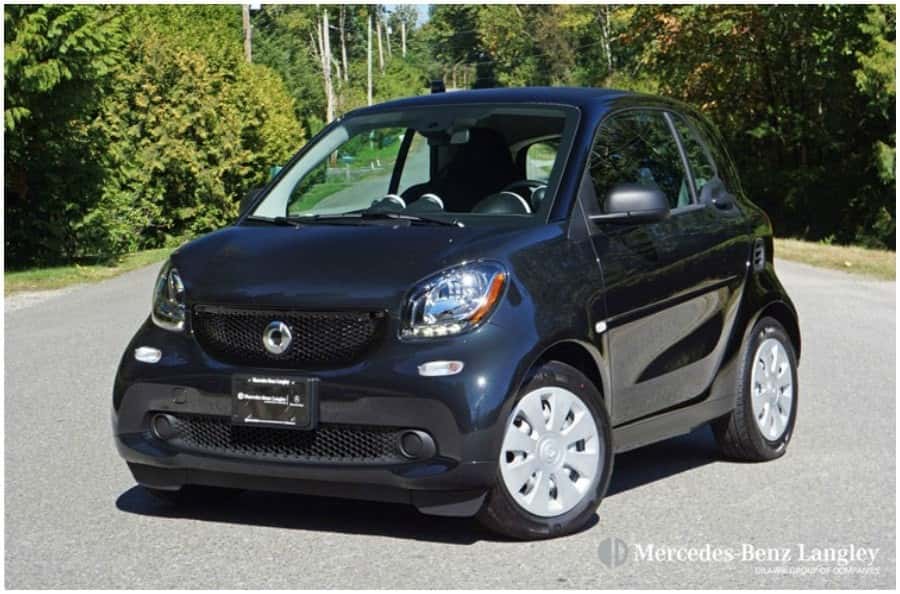 Story credits: Trevor Hofmann, Canadian Auto Press
Photo credits: Karen Tuggay, Canadian Auto Press
Copyright: Canadian Auto Press Inc.