2017 Mercedes-AMG C 63 S Sedan Road Test Review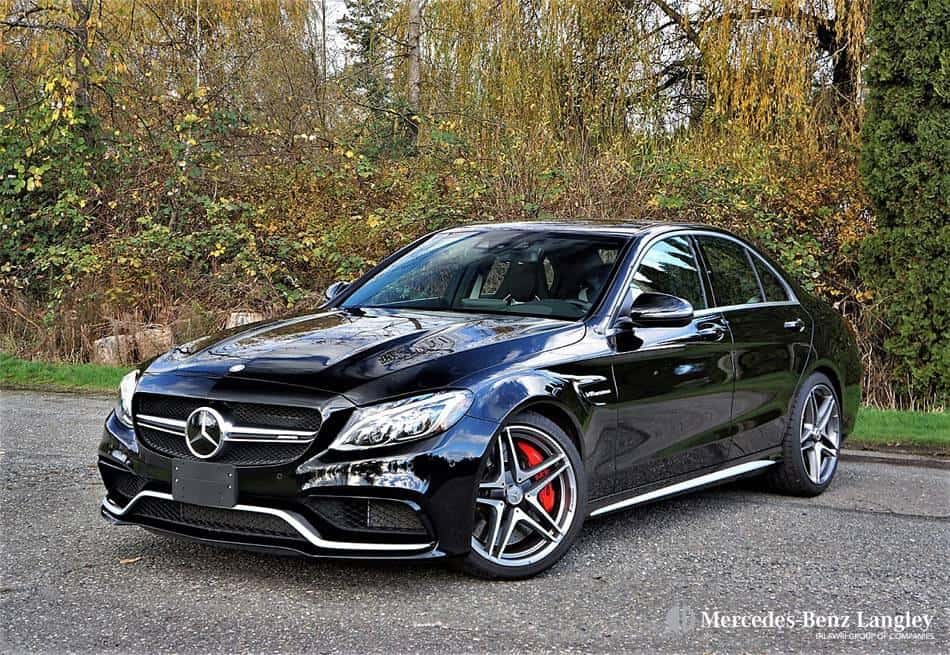 Extreme performance meets supreme luxury
No automaker has more fully capitalized on its in-house performance sub-brand than Mercedes-Benz, with no less than 32 individual AMG models to choose from. Within the C-Class lineup alone there are nine, including C 43, C 63, and C 63 S versions of the sedan, coupe, and convertible.

AMG C 43 models use a heavily massaged version of Mercedes' 3.0-litre V6 that pushes the D-segment compact from standstill to 100km/h in a mere 4.9 seconds ahead of a 210-km/h top speed thanks to 362 horsepower and 384 lb-ft of torque driving all four wheels through a new AMG-tweaked nine-speed auto with paddles, whereas the AMG C 63 drives the rear wheels via M-B's upgraded AMG SpeedShift seven-speed auto, yet the 100km/h mark flashes past in just 4.1 seconds before attaining a terminal velocity of 250 km/h due to a 469 horsepower 4.0-litre V8 with 479 lb-ft of torque. As for the C 63 S, fuse that last combination of hardcore components together with a hyper-tuned version of the same engine, now capable of 503 horsepower and 516 lb-ft of torque for a 4.0-second sprint to 100km/h with Race Start mode engaged and a top speed of 290 km/h, and you've got a recipe for some serious civil disobedience.

Styling to match its dominating performance
There's nothing subtle about the way it looks either, especially in black. Building on the much sportier new C-Class design, the AMG team added a deep Formula One-inspired lower fascia, extended the side sills, topped the deck lid off with a discrete but effective spoiler, and finished off the rear end with a radical rear diffuser housing a quad of rectangular tailpipes, and then trimmed everything out in satin finish aluminum from front to back. "V8 BITURBO" badges adorn each front fender, while diamond-finished split five-spoke 19 inch alloys with grey painted pockets on 245/35 front and 265/35 rear Dunlop Sport Maxx ZR rated rubber frame some of the largest cross-drilled rotors in the industry, their massive calipers painted red to match the LED taillights in back. This is one mean looking car, and it only gets better inside.

At first glance it's visual overload. All of the satin finished aluminum, black lacquered hardwood, two-tone leathers, and colourful digital interfaces coming together in an eye-scorching display of hyper-sport meets over-the-top luxury. It's not for the faint of heart, highlights including one of the sportiest flat-bottomed steering wheels I've ever seen, comprised of black leather with a light grey stripe at top-centre, matching grey stitching around the inside of the rim, black psuede handgrips left and right, and aluminum spokes, with the same metal used for the paddle shifters in behind. The aluminum trimmed gauge cluster is equally impressive, its twin dials finished with black carbon-fibre faces, red needles, and thin red rings around each, while a large TFT colour multi-information screen is packed with handy go-to features.

Gorgeous interior design is best in class
The centre stack is at least as artistically inspired, with Mercedes' usual big fixed tablet infotainment display on top, its resolution, depth of colour and graphics amongst the best in the biz, but it's the three circular aluminum HVAC vents below that'll wow would be buyers and their passengers alike, not to mention an identical pair capping off each corner of the instrument panel. Just below is a gorgeous array of aluminized toggles with textured tops for controlling said tri-zone HVAC system, with each prompt resulting in yet more brilliant graphics from the display above. Trust me, you'll like it. A CD slot and yet more high-grade switchgear separates those toggles from the main infotainment controller on the lower console beneath, this being Mercedes' latest palm rest and rotating dial combo that's as aesthetically titillating as it's tactilely wonderful. Knurled metal edges join satin-finish surfaces for grippy yet silky smooth operation, while finger tap, swipe and pinch gesture capability gets served up with myriad quick-access buttons for getting the most out of infotainment and dynamic driving systems.

As you might expect there's no shortage of "/////AMG" branding to remind that this is no ordinary C-Class, each perforated black leather and grey suede-trimmed front sport seat badged with a shiny metal plaque, but you might not initially notice as their four-point seatbelt harness-style pockets are made from what look like solid aluminum castings. The seats are powered via aluminized switches on the otherwise black leather and grey suede door panels, these next to the sweetest looking speaker grilles you'll likely see in any car, the scripted "Burmester" logo saying much about the sensational sound quality hidden within. Natural light from above makes everything appear all the nicer thanks to a massive dual-pane panoramic sunroof overhead. Truly, the C 63 S takes interior design, materials quality, and refinement to entirely new levels of D-segment greatness.
It's also roomy and comfortable front and back, while the trunk is made more usable the Euro market's usual 40/20/40 split-folding rear seatbacks, which are much more useful than the domestic or Japanese luxury norm of 60/40. This means every passenger can enjoy a window seat when heading home on the Sea-to-Sky from Whistler.

Straight-line performance that will get your heart pumping
And that would be quite the ride. OK, if you're heading to the mountain on a regular basis I'd recommend one of Mercedes' many 4MATIC all-wheel drive models, the AMG C 43 for instance, but then again a set of grippy winters joined by the C 63 S' standard assortment of electronic active safety equipment would probably plow through most snow drifts laid down where you'd be parked for the day. It certainly would be fun to find out how well it handled slippery situations, although I'd keep Race mode turned off unless there were no towering metal light posts in close proximity. As it was, time spent with the C 63 S was devoid of any white fluffy stuff or even rain, the tarmac bone dry and as adhesive as one could want, ideal conditions for getting the most out of the aforementioned thrust and twist.

A quick reminder, we're talking about 503 of the former and 516 of the latter, the near instant result of right metal pedal to floorboard being smeared dotted yellow lines ahead and linear blurred side scenery together with a momentary loss of breath and gravitational overwhelm, but be forewarned the exhilarating motive experience, adrenaline inducing howl of screaming V8, and raucous roar of dual sport exhaust is often followed by uncontrollable laughter. The speed is outrageous, all posted on the windshield along with revs and more via full-colour head-up display. Its lightning starts and quick-shifting gearbox almost guarantees first corner holeshot, unless you've got Lewis Hamilton's unlucky fingers (his seven pole positions converted into just two first-lap leads during 2016 is all I need to say), but the real fun starts when speed rises and corners arrive.

Handling and braking power that measures up to engine output
While specially tuned AMG Dynamic Select Sport Plus and just noted Race modes are available, regular Sport mode did me fine more often than not (Dynamic Select includes Comfort too, but no Eco mode), the C 63 S making its considerable 1,730-kilo curb weight seem almost nonexistent, those big 19s noted earlier, and superbly sorted sport suspension setup combining for some seriously skilled road-holding, much thanks to lighter and tighter AMG made springs and shocks with three-stage damping, an AMG-developed front axle, torque vectoring rear-wheel braking, and plenty more. Dramatic dips and radical hairpins rattled me more than the car, nothing I could throw at it upsetting the undercarriage. The C 63 S casts a wide shadow that helps during fast-paced transitional shifts, while its gargantuan 14.2-inch brakes, with six-piston fixed calipers up front quickly eradicated potential problems. This is a driver's car supreme, yet it's best in its hyper-sedan class for transforming back into pure luxury once the fun is done.
Really, despite razor sharp control on the track, the C 63 S delivers up a compliant ride around town and on the highway. I could drive it all day, its comfortable ride, upright stance, great visibility, and ample size making for a near effortless daily commuter.

Best in super sedan class fuel economy
Certainly it's no C 300 when it comes to fuel economy, but with a claimed rating of just 13.4 L/100km city and 9.6 highway it's no glutton either. In fact it's more efficient than its considerably less powerful super sedan competitors. All the attention paid to saving fuel in Mercedes' championship-winning Formula One effort seems to be paying off on the street.
The AMG C 63 S does everything right, a car seemingly without fault. I know that's impossible, but Mercedes-Benz' AMG division has taken refined performance to a new level entirely, and the result is one of the finest four-door sedans to ever grace the planet. That it can be purchased for a mere $84,100 plus freight and fees is as shockingly agreeable as the car itself.
For that price you won't get everything mentioned thus far as standard, with the options list filled with features like proximity entry, cornering headlamps, head-up display, adaptive cruise control, a larger 8.4-inch infotainment display, navigation, voice control, a 360-degree parking camera, the Burmester surround stereo, ventilated seats, the Air Balance cabin fragrance system, autonomous self-parking, a powered trunk lid, carbon-ceramic brakes, performance exhaust, and a host of active safety features such as Pre-Safe Brake (autonomous emergency braking), Active Blind Spot Assist, BAS Plus with Cross-Traffic Assist, Active Lane Keeping Assist, Distronic Plus with Steering Assist, and Pre-Safe Plus for rear-end collision.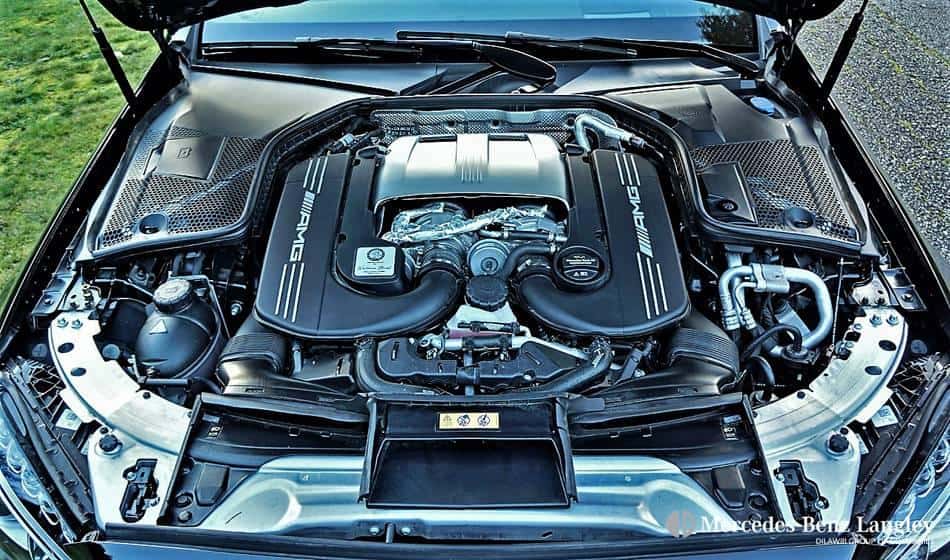 No shortage of standard equipment
The aforementioned Nappa leather upholstery is standard, however, along with three no-cost colour options, as are all the exterior upgrades noted previously, plus the AMG multifunctional sport steering wheel, stitched MB-Tex dash top, and panoramic sunroof, while additional standard equipment includes LED headlamps with auto high beams, full LED taillights, power-folding side mirrors, auto-dimming mirrors all around, pushbutton ignition, memory for the powered front seats, a power-adjustable steering column, rain-sensing wipers, dual-zone auto climate control, heatable front seats, a garage door opener, a rearview camera, blindspot monitoring, adaptive braking technology, Crosswind Assist, Attention Assist, Collision Prevention Assist Plus, Mercedes' Pre-Safe crash preparation system, a whole slew of additional active and passive safety features, plus much more.

The 2017 Mercedes-Benz AMG C 63 S is a value packed super sedan that's hard to match, combining extreme performance with supreme luxury. I can't recommend it enough.

Story credits: Trevor Hofmann, Canadian Auto Press
Photo credits: Karen Tuggay, Canadian Auto Press
Copyright: Canadian Auto Press Inc.