2018 Mercedes-Benz E 400 4MATIC Coupe Road Test Review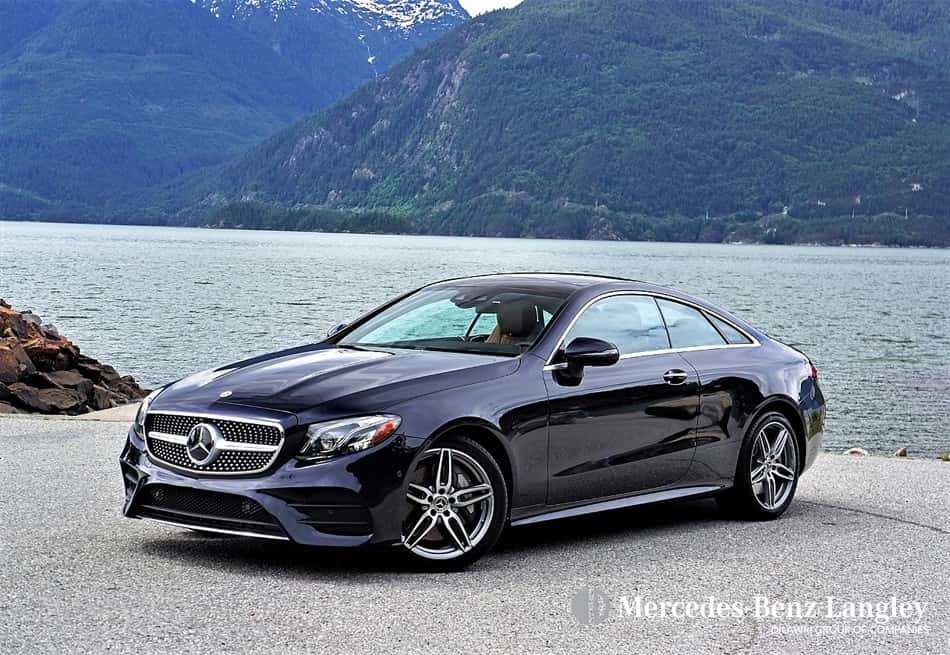 Stretching the luxury coupe to two-door sedan dimensions
We don't use "two-door sedan" much anymore, but there actually was such a thing. The words were formulated to described two-door coupes based on four-door sedans, and if any company has the right to repurpose the term for this modern era, it would be Mercedes-Benz.
Of course, many of today's two-door coupes fall into the category just mentioned, but few can be considered two-door sedans because they relegate rear seat passengers to cramped, uncomfortable quarters, which lumps their creations within the 2+2 category. Not so with the new E 400 Coupe that provides plenty of rear room for full-size adults, making it as ideally practical as it's elegantly beautiful.
Mercedes' history is filled with two-door versions of its four-door executive sedans, most of which have gone on to become desirable collectibles. I won't delve into every progenitor of this new E-Class Coupe, but key models would have to include the beautiful 114 series CE coupes from the late '60s to mid-'70s, and I couldn't neglect the mid-'80s 124 series two-doors that would eventually take on the E-Class Coupe designation. The first E Coupe I tested professionally was the 2010 model, a car I still find particularly beautiful, which is why I'm especially happy to see that its rear quarter glass remains an important element of the all-new 2018 design.

Larger yet even more beautiful than its predecessor
The new car is larger in every dimension, bringing it back into the two-door sedan realm, but it remains every bit as sporty as its predecessor. The most notable change is the "Diamond" grille, Mercedes now harmonizing the appearance of nearly all performance models from the four-door CLA up to the grand S Coupe. The grille's rounded edges flow around new standard LED headlamp clusters before passing over smoother fender swells and finalizing in curvaceous rear quarters that are more enticing with each long drawn out gaze.
From a distance it's an exercise in minimalism, but Mercedes has the details down to perfection too. The Diamond grille's chromed pin brightwork is literally brilliant, while the unique complexity within my testers' upgraded active cornering Multibeam LED headlamps, complete with 84 individual elements apiece, is dazzling, as is the granular detail within the "crystal" taillight lenses, or for that matter the fine visual lightness to the optional 19-inch twinned five-spoke AMG alloys, and that's all before taking in the cabin via its pillarless side glass.
Mercedes has been making its big autobahn-born coupes with frameless doors sans B-pillars for as long as I can remember, and together with a standard panoramic sunroof that slides back atop the rear potion of the roof, the E Coupe presents a targa-like open airiness, which is all the better for shedding light on its impressive interior.

Stunning interior sets the new E 400 Coupe apart
Having recently reviewed an E 300 Sedan I was prepared for a near complete transformation to the digital world in higher spec trims, but the rich colour combinations, finely crafted metalwork, particularly the new turbine-look air vents, and exquisitely detailed hardwood inlays caused me to take pause. Rarely does a car's interior surprise, but the way Mercedes is now blending cutting edge and traditional design cues with the best possible materials puts them at the forefront of the premium car industry, not that this is the first time they've been there.
With its optional 12.3-inch configurable gauge cluster that offers up classic, sport and progressive graphic interfaces, the screen fully combining with the standard 12.3-inch centre stack electronics for one ultra-sized dual-tablet-style "Widescreen Cockpit" display, Mercedes fully embraces the digital age.
Traditionalists can opt for a set of analogue gauges surrounding a 7.0-inch colour TFT multi-information display, but Mercedes expects most E Coupe customers will spend the $4,000 needed for the Premium package that also adds keyless entry with pushbutton ignition, foot actuated hands-free trunk access, illuminated sill plates, enhanced heated front seats with fabulous heatable armrests, plus 590-watt 13-speaker Burmester surround sound. Once you experience it, you'll understand why.

The digital gauge cluster combines with the standard infotainment system to form the largest high-resolution, fully-configurable, graphically stimulating, richly coloured, TFT driving display in the industry, stretching from the left side of the steering wheel to the rightmost point of the centre stack, leaving all competitors looking stale and dated in the process.
So much technology might sound overwhelming to some, but believe me it's anything but. It's clean, clear and easy to sort out via thumb swipes on two steering wheel-mounted Touch Control buttons, plus the usual touchpad and rotating controller on the centre console, this system also recognizing handwriting and the usual tablet/smartphone-like gestures, not to mention Linguatronic voice control. It's digital done right, with equal parts future tech and finesse, enhanced further by an available head-up display that projects vital info onto the windscreen.

Surprisingly well priced for such an well equipped objet d'art
The 2018 E 400 4MATIC Coupe can be had for just $72,700, which when placed beside its handful of competitors seems very reasonable as they all start at more than six figures. Along with the $4k Premium package, both test cars driven on the Canadian press launch came with the $2,600 Technology package featuring the aforementioned Multibeam LED headlamps with dynamic cornering and auto high beams, head-up display, and a 360-degree parking monitor; plus a $2,700 Sport package with 19-inch AMG twinned five-spoke alloys, a Dynamic Body Control suspension, and Multicontour front seats with a massage feature that works brilliantly; as well as a $2,700 Intelligent Drive package with Traffic Sign Assist and a slew of Advanced Driving Assistance package active safety equipment that first warns of potential accident and then, if necessary, takes over to avoid via autonomous braking, steering assist and more, and finally semi-autonomous Drive Pilot, which is essentially autonomous driving over short distances—it will even automatically change lanes by simply flicking the turn signal, while its parking assist not only gets you into a tight spot, but will get you out again.
On that note, Evasive Steering Assist adds additional steering input to help you get around otherwise potential accidents, like a pedestrian unexpectedly walking across the street, or a car running a stop sign. Amazingly, even if you don't turn sharply enough to bypass the problem the E Coupe calculates the best route of avoidance and performs the task for you, all before setting you back on course, no harm done.

Mercedes continues to lead in active safety and mechanical engineering
In the event such systems can't save you from trouble the E Coupe's Pre-Safe system instantly closes windows and sunroof, pulls the seats upright, cinches the seatbelts and more while doing its best to stop and steer you away from the critical path. Even more amazing, milliseconds before impact Mercedes' Pre-Safe Sound deploys a high-volume blast of pink noise through the audio system to limit hearing damage from the types of high-pressure noises that occur during an accident. It's no wonder the E-Class Sedan achieved a best-possible Top Safety Pick Plus rating from the IIHS in standard trim, a rating that will likely transfer to this new E-Class Coupe.

Whether left to its own autonomous devices or kept in complete driver control the E 400 4MATIC Coupe is one ultimately smooth and wonderfully swift machine. Its twin-turbocharged 3.0-litre V6 produces 329 soulful horsepower and 354 lb-ft of torque for a brisk 5.3-second sprint to 100 km/h and a top speed of 209 km/h, while its new lighter nine-speed 9G-TRONIC automatic is as quick and smooth an operator as anything in the class, plus another notch up on most competitors' eight-speed boxes.
Unlike most challengers, Mercedes maintains quality control by manufacturing its own transmissions, so rest assured the same care and attention that goes into its outward craftsmanship backs up sights unseen as well. Aluminum paddles are included, but the transmission can also downshift automatically under braking in Sport and Sport+ modes. I found Sport most to my liking, its quick yet smooth responsiveness ideal for a grand touring car that's capable of chewing up miles of fast-paced asphalt without complaint. Then again, Comfort and Eco modes were also very capable, no matter the speed or terrain.

Superb performance combines with impressive efficiency
When set to either of the latter two modes the E 400 4MATIC Coupe manages fuel well thanks to plenty of built in efficiencies, a particularly notable one dubbed "sailing" mode that shifts the gearbox to neutral when coasting. Highway fuel economy is therefore excellent at 8.9 L/100km, whereas standard auto start/stop helps it earn 11.8 L/100km in the city.
As you might guess this E Coupe was thoroughly comfortable and plenty easy to drive around town, but when pushed hard through the countryside that made up much of the launch program's drive route it was every bit the sport coupe its lean lines promise. The car is near unflappable in fact, erring to predictably controllable understeer during intensely quick cornering with very little body roll, its confident prowess aided by a 15-mm lower ride height than the already rock-steady E-Class Sedan. Of course Mercedes' standard 4MATIC all-wheel drive improves road holding in as-tested dry conditions, as it no doubt would in the wet or after even slipperier snowfall.

On that note the base Dynamic Body Control suspension, which features variable adaptive dampers, delivers a wonderfully compliant ride no matter the road surface. We hit some frost heaves, unexpected potholes, and impromptu roadwork on the various backcountry highways, and nothing unsettled the car at speed. It's really a dual-personality performer, with equal parts sports car and luxury saloon. If you want even more high-speed comfort Mercedes offers its optional Air Body Control suspension, but unfortunately the system wasn't available to test during the program.

Get ready to stretch out in front or back
As mentioned earlier this new seventh-generation two-door is a true mid-size E-segment model that shares Mercedes' new W213 E-Class architecture. This allows for significantly more outward size and interior space than its predecessor, the former measuring 123 millimeters longer overall with a 113-mm increase in wheelbase, while its also 74 mm wider and 33 mm taller. This newfound size is a better fit within Mercedes' lineup, its 4,826 mm slotting right between the 4,686 mm C-Class Coupe and 5,027 mm S-Class Coupe. Oddly, despite the increased size its trunk space is slightly down in volume, from 450 to 425 litres. Of course this is still generous by coupe standards, while it can also be expanded via 40/20/40-split rear seatbacks.

Climbing into the back seat is easy thanks to a lever on the front seatback that automatically slides it forward to make an amply wide entry. When seated, the front seat automatically returns to its previous position. My five-foot-eight medium-build frame felt adequately pampered, with more than enough knee and foot room despite 66 mm cut from the E sedan's wheelbase, plus enough headroom for a fully extended neck. What's more it's 35 mm wider at the shoulders up front and 15 mm more spacious in back.
Driver's seat ergonomics are spot on too. The aforementioned steering wheel is Nappa leather-wrapped and even flat-bottomed in base trim thanks to the E Coupe's standard AMG package (you can opt for a round steering wheel at no charge). Other standard AMG package upgrades include 18-inch alloys, the Diamond grille, a twin power-dome hood, aero body kit, beefier 360 mm front brakes with drilled rotors, open-pore dark ash hardwood interior inlays, and more.

Heatable seats and armrests… how decadent!
Additionally, the standard leather-clad 16-way powered front memory seats are heatable as are the noted armrests, while the 12.3-inch infotainment display gets navigation, Apple CarPlay, Android Auto, HD and satellite radio, a backup camera, etcetera. Mercedes' realistic feeling Artico leatherette is stitched together atop the dash and much of the instrument panel, upgradable to real hides of course, while standard ambient lighting wows with no less than 64 selectable colours. Bright lights in mind, rearview and driver's side auto-dimming mirrors ease the eyes during nighttime driving.
I've already noted the massive overhead glass, although neglected to mention the front glass benefits from Magic Vision Control wipers boasting heated blades with integrated washers, while no-cost options include beautifully sculpted slabs of open-pore light brown elm or piano black lacquered hardwood instead of the standard dark ash. Likewise the standard black roofliner is available in beige at no charge.

The packages mentioned earlier aren't the only options available, with others including two available $3,300 designo interiors that add Black/Titanium Grey Pearl or Macchiato Beige/Titian Red Nappa leather to the seats, instrument panel and door beltline, along with plusher floor mats. Additional options include various $1,500 Nappa leather upholstery upgrades, $1,200 ventilated front seats, $650 heatable rear outboard seats, a $500 Air Balance package that adds fragrances to the ventilation system, a $600 powered rear window sunshade, $150 wireless phone charging, and last but hardly least a $6,900 Burmester 3D surround sound upgrade that builds on the unit found in the Premium package with 1,450 watts, 15 amplifiers and 23 speakers resulting in phenomenal audio quality no matter the genre of music chosen. It features a unique 3D-Sound algorithm that even makes classic stereo-mixed tunes fill the car with a "wall of sound" reality rivaling the best audio systems I've ever heard, while a "Pure" mode breaks it all down to a natural rawness, just like it would've sounded during mastering.

New E-Class Coupe is in a class of one
Somehow the word mastering seems appropriate when summarizing this new E 400 Coupe. It's truly a car like no other. It harks back to the mid-size two-door sedans of Mercedes' past, delivering a level of substance and refinement that normally requires an entry price two to three times higher, while incorporating a lightness, efficiency, and environmental stewardship to its design that such ultra-luxury coupes often ignore. Its outward style is unquestionable, and opulently attired interior hard to fault. Those blessed with impeccable taste should seriously consider the new E-Class Coupe.
Story credits: Trevor Hofmann, Canadian Auto Press
Photo credits: Trevor Hofmann, Canadian Auto Press
Copyright: Canadian Auto Press Inc.