Introducing the 2015 Mercedes-Benz C 63 AMG: Powerful high-performance athlete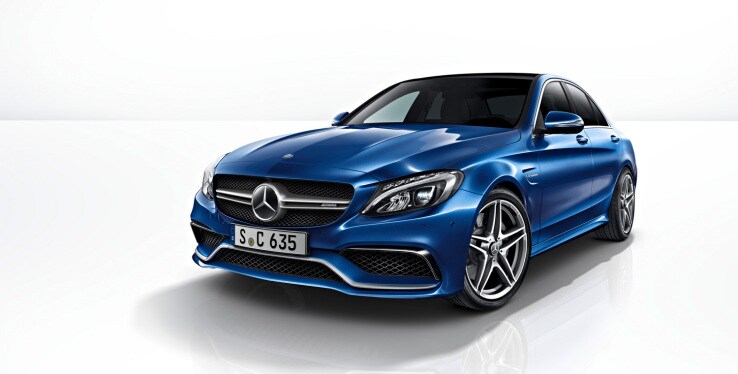 Powerful high-performance athlete
TORONTO, ON – Pure fascination and breathtaking dynamics – the new Mercedes-AMG C 63 sets benchmarks. The high-tech drive, the signature AMG handling and the high level of individuality in equipment choices guarantee an utterly unique driving experience. The top model in the C-Class line-up is driven by a 4.0-litre V8 biturbo engine closely related to the power unit that provides breathtaking propulsion in the Mercedes-AMG GT. The power spectrum ranges from 469 hp in the C 63 to 503 hp in the C 63 S. With an unrivalled fuel consumption figure of just 8.2 litres per 100 kilometres (NEDC combined), the C 63 is the most fuel-efficient eight-cylinder car in the high-performance segment. The extensive range of standard equipment includes the AMG RIDE CONTROL sports suspension with electronically controlled shock absorbers, the mechanical rear locking differential and the AMG DYNAMIC SELECT drive programmes. The highly exclusive "Edition 1" is available from market launch.
Dynamics plus long-distance comfort – as a sports sedan, the new Mercedes-AMG C 63 offers compelling engine data with exceptionally low consumption figures, outstanding longitudinal and lateral dynamics and a high level of everyday usability. The interior and exterior design is more distinctive than ever before.
The V8 top model in the C-Class is available in a choice of two variants – the Mercedes-AMG C 63 S and C 63, with the C 63 S set up for even more dynamic handling and performance. The Mercedes-AMG C 63 celebrated its world premiere on October 2, 2014 together with the show premiere of the Mercedes-AMG GT at the Salon de l'Automobile in Paris. The Canadian market introduction of the C 63 S and C 63 sedans is slated for August 2015.
"This new model introduction will also mark the beginning of a new era with the new nomenclature. The successor to the Mercedes-Benz C 63 AMG, which has been incredibly successful worldwide, will now be called the Mercedes-AMG C 63", says Tobias Moers, CEO of Mercedes-AMG GmbH. "At 40,000 units, the previous generation C 63 AMG was the bestselling AMG model. We will now add to this success with the new Mercedes-AMG C 63. Be it in drive, handling or equipment, the Mercedes-AMG C 63 sets new benchmarks and will further strengthen our brand promise 'Driving Performance'. AMG customers can look forward to an exceptionally dynamic driving experience."
Read More: Mercedes-Benz News
Date Posted: January 26, 2015