Mercedes-Benz Langley, Star Dealer of the Year 2017 & 2018
>> The smart fortwo.
For more fun in the city.
Welcome to the new smart fortwo. Where others still think in kilometres per hour, we think a step further. After all, it's completely different things that count in the city compared to on the motorway. High agility, a small turning circle, a whole lot of comfort and clever functions – and last but not least always being able to find a parking space with ease. The new smart fortwo shows true greatness in these disciplines. With a length of just 2.69 m.
View Inventory.
Design.
Completely new. And typically smart.
The ease with which you glide into small parking spaces might be all that reminds you that you are actually sitting in a small car. The interior is surprisingly spacious, with materials that are a pleasure to look at and touch and smooth design lines you will enjoy with every kilometer you drive.

Many surfaces are covered with fabric with colour combinations ranging from stylish to extravagant. The smart fortwo has not only gained in terms of design and quality, You are also sure to notice the ten centimeters more width in the interior, giving it a new, fresh look.
Two-tone. One-off.
Typically smart and unmistakable: the smart fortwo combines familiar design features such as the two-colour concept consisting of tridion safety cell and bodypanels with new ideas and details. The result is a design that clearly stands out from the other cars on the road and makes the city a little bit more exciting.
Panorama roof.
The 1.2 square metre fixed panoramic roof made of breakage-resistant polycarbonate brings more light to the interior and creates a greater feeling of spaciousness. It consists of two segments of laminated glass at the front and single-layer safety glass at the rear. An infinitely adjustable fabric sunblind provides shade when needed. What's more, a slight tint keeps 60% of the sun's energy and 100% of UV radiation outside.
Wheel rims.
Alloy or steel wheels, black or silver, spokes or twin spokes: The different rim designs cater to every wish.
Driving Pleasure.
More fun driving, parking and maneuvering.
Rear-mounted engine and rear-wheel drive: does that sound more like a sports car than a car for the city? It certainly does. And these features are unique to the smart fortwo in this class.
Short and better.
With a length of just 2.69 m the smart fortwo fits in every space and is ideal for everyday city driving.
Turning circle.
Unrivalled in this discipline: the smart fortwo. Thanks to its length of just 2.69 m and the new Direct-Steer system with variable ratio the turning circle of just 6.95 m measured from wheel to wheel takes some beating – and you can almost turn on the spot.
Long wheelbase.
Extremely short overhangs: the wheels are positioned on the outer ends of the vehicle – a highly unusual design feature in this form. And they not only look good, in combination with the rear engine concept this also enables the best possible utilization of space and a greater feeling of spaciousness.
Wide track width.
A striking icon: the new smart fortwo is ten centimetres wider than its predecessor, and this has a positive effect on both the interior spaciousness and the visual presence.
Suspension.
Takes road unevenness in its stride: with springs specially configured for the demands of city streets you reach your destination safely and feeling relaxed.
Direct-Steer system.
Noticeably lighter: the Direct-Steer system greatly facilitates parking and manoeuvring. The Direct-Steer system combines the comfort of speed-sensitive power steering with variable transformation ratios depending on the steering wheel angle. This not only makes for greater cornering agility, it also noticeably reduces the steering effort required when parking. And helps you stay on track.
Functionality.
The best thing that can happen to you in the city.
The new smart fortwo has gained in every respect. It sets new standards in its class with a completely new, trendsetting design and even more clever solutions.

Discover the highlights of the smart fortwo – such as innovative assistance systems for even more safety and comfort, an unparalleled turning circle, an amazing amount of space and high-quality workmanship.
A thousand ideas packed into 2.69 m.
Whatever you need every day – simply take it along with you! You'll be amazed at how much fits in a smart fortwo. It shows true greatness with its wide opening doors and an amazingly spacious interior.
Tailgate.
The split tailgate facilitates loading and unloading. Simply open the top section to stow smaller items inside the car. And for larger items fold down the lower section for even more convenient loading.
Space for small items.
The drawer in the centre console is a clever idea: it creates space where there was none before for stowing small items away securely and out of sight. Thanks to the integrated cup holder hot or cold drinks can be safely transported. The stowage compartment in the tailgate offers additional stowage space for small items. Fluorescent jacket, first-aid kit or warning triangle can also be accommodated here. And the stowage compartments in the doors can hold bottle sizes of up to a litre. Special detail: the folding glasses compartment instead of the handle on the drivers side is a useful stowage facility within direct reach.
smart media system
The new smart media system is a 7-inch multi-touch display with gesture control or voice command. It also comes with AUX, USB, and SD card interfaces and it's Bluetooth® enabled – perfect for streaming your favourite music. Plus, it's all hands-free so that you never have to take your hands off the wheel.

The smart media system is optionally available as part of the passion and prime models.
smart cross connect appsmart cross connect app
Download the free smart cross connect app and turn your smartphone into a connected multimedia system for your smart fortwo. Available for iOS 7 or higher and Android 4.2 or higher, the smart cross connect app comes in 7 different languages to analyze your driving dynamics, provide trip information, and keep you entertained.
Keep an overview.
For an excellent overview: the raised seating position typical of smart means that not only do you spot free parking spaces more quickly, getting into and out of the car is also easier.
Safety.
The heart of the innovative smart safety concept:
The tridion safety cell is made of high-tech steels and encases the passengers like the hard shell of a nut. Deformation is kept to a minimum in the event of an impact. On a visual level, it is instrumental to the iconic design.
Takes the punch out of gusts of wind:
Crosswind Assist is able to offset even strong gusts of wind. When the esp® sensors sense the vehicle is at risk of leaving the lane they automatically initiate controlled brake intervention. The vehicle stays on course and the steering effort is greatly reduced.
Anticipating dangers:
The radar-based Forward Collision Warning function (optional) can help to prevent rear-end collisions. If an insufficient safety distance is detected a warning lamp lights up in the instrument cluster. If the distance becomes critical with a risk of collision there is also an acoustic warning.
Six airbags as standard:
The smart fortwo comes with one airbag for driver and front passenger respectively and a kneebag for the driver and front passenger. There is also a head/thorax bag for the driver and front passenger in their respective seat backrests.
Search
Find Your Vehicle ×
Search By Keyword
Search By Filters
Saved
Saved Vehicles ×
SAVED VEHICLES
You don't have any saved vehicles!
Look for this link on your favorites:
Once you've saved some vehicles, you can view them here at any time.
Mercedes-Benz Langley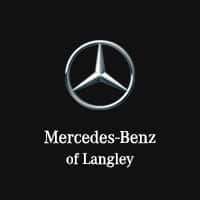 20801 Langley Bypass Langley, BC
Phone: (604) 533-1205
https://www.google.com/maps/place/20801+Langley+Bypass,+Langley,+BC+V3A+5E8,+Canada/@49.1127636,-122.6481935,17z/data=!3m1!4b1!4m5!3m4!1s0x5485ce28b9b51eab:0x19ed6a60b8eb06d!8m2!3d49.1127601!4d-122.6460048
49.11276 -122.6460048