Mercedes-Benz Sprinter is the only commercial van to offer factory 4WD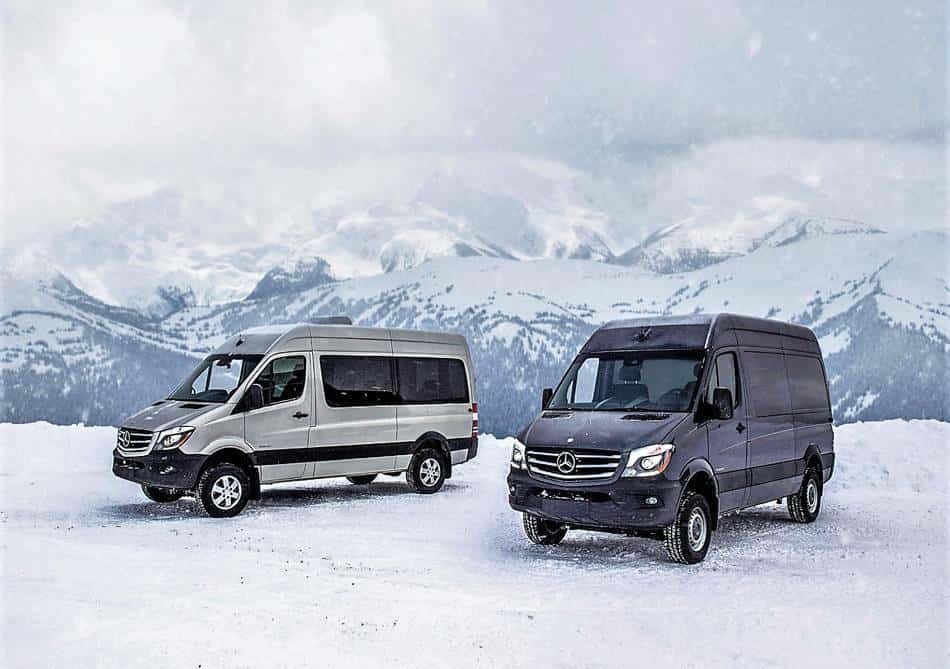 High capacity, lockable security, and rugged off-road capability set Sprinter 4×4 apart
It was only a matter of time before Mercedes-Benz combined its much-lauded 4×4 know-how with the ultimate utility of its Sprinter van, the result being one of the most versatile vehicles to arrive on the commercial market.
Mercedes-Benz has been building four-wheel drive vehicles for more than a century. Most will be familiar with its lineup of compact and mid-size SUVs, from the diminutive GLA and larger GLC to the mid-size GLE and largest seven-passenger GLS. Serious off-road fans will also be well aware of the legendary G-Class, dubbed Geländewagen when introduced in 1979, and the brand's unstoppable Unimog (UNIversal-MOtor-Gerät) range of multi-purpose four-wheel drive medium trucks that were first introduced in 1947 and are still available for commercial application today.
Mercedes' commercial van division is newer, at least to Canadians. Similar to its 4WD heritage the German automaker has more than a 100 years of commercial vehicle sales under its corporate belt, the division's reach spreading to more than 50 countries. It wasn't until January of 2010, however, that the revered three-pointed star was fixed to the front of its Sprinter van.

Multiple configurations make Sprinter 4×4 an all-access resource for any business
A more recent addition to the Sprinter line is four-wheel drive, Mercedes-Benz the only commercial producer to offer a factory 4×4 option. The class-exclusive push-button, driver-selectable 4×4 drivetrain is available for V6-powered cargo and passenger models in all weight and body configurations, excepting Cargo Vans with the Super High Roof option and Passenger Vans with the 170-inch wheelbase. Therefore, available versions include Cargo Vans in the 2500 and 3500 weight classes, Standard and High Roof, 144- and 170-inch wheelbases, plus extended-length EXT models; and Passenger Vans in the 2500 weight class, Standard and High Roof, with the 144-inch wheelbase.

The Sprinter four-wheel drive system includes a 35:65 torque-split between the front and rear axles enhanced by a 75-mm (2.9-inch) increase in ride-height up front and 100 mm (3.9 inches) in the rear, for considerable off-road capability. It includes a low-gear differential to maximum traction in more treacherous off-road terrain, especially helpful when negotiating steep grades in slippery conditions or when doing likewise while towing heavy trailers.
The Sprinter 4×4 is the only fully capable off-roader available with an enclosed cargo volume of 15,000 litres (15 m3 or 530 cubic feet), a cargo load height of up to 198 centimetres (78 inches), and a payload capacity up to 2,358 kilos (5,199 lbs). Alternatively, the Sprinter 4×4 Passenger Van can accommodate up to 12 adults and 1,190 kilograms (2,625 lbs) of cargo.

Proven 3.0L turbo-diesel an ultra-efficient workhorse
The Sprinter 4×4 utilizes Mercedes' proven 3.0-litre direct-injection turbo-diesel V6 making 188 horsepower and 325 lb-ft of torque mated to a five-speed automatic transmission and part-time four-wheel drive that's activated by a button within the cab, allowing extra traction when needed and the ability to turn the 4WD system off to save fuel when not required.
Also important, the Mercedes four-wheel drive system only adds 123 kg (271 lbs) to the Sprinter's overall weight, so its effect on fuel economy when not in use is nominal.
The Sprinter 4×4 has already become indispensable for industries that need to keep heavy loads dry and secure while venturing off pavement, one such industry being wind farming and the company servicing it, Germany's Enercon. Enercon has over 600 Canadian employees, and globally has installed more than 25,600 turbines worldwide, ranging from 500 kW to 7.5 MW, representing more than 41.2 GW of installed capacity, which includes over 2,000 MW throughout seven Canadian provinces and territories. The company purchased 20 Sprinter 4x4s after testing an early prototype over 7,984 kilometres of Canadian terrain for six months.

"For many years, Enercon has used Mercedes-Benz vans to serve our company's wind turbines around the world," said Volker Kendziorra, Global Head of Service, Enercon. "We found that the Canadian climate and topography demanded certain requirements, and are pleased to say that the Sprinter 4×4 has met all of them."
Spacious, dry and secure cargo versatility in a capable off-road package
The Sprinter 4×4 prototype worked well for Enercon, which needed a fuel-efficient 4WD vehicle with a competent payload capacity, plus a sheltered and secure cargo area. Additionally, Enercon's wind farms can be located far from main roads, in difficult to access terrain. Now its fleet of production Sprinter 4x4s is in full operation across Canada.

"The Mercedes-Benz Sprinter was the pioneer of the modern van movement, and today this model continues to trail blaze as the only 4×4 commercial van in Canada," added Hans-Jörg Mehl, Vice-President and Chief Financial Officer of Mercedes-Benz Canada. "Our agreement with Enercon underscores the increasing importance of fuel efficiency to global corporations, an area in which the Sprinter leads the pack. This advantage, coupled with its best-in-class payload and cargo volume – not to mention its remarkable interior height of over 2.2 metres – make for an unbeatable combination."
The Sprinter 4×4 can be upfitted similarly to rear-wheel drive Sprinter vans, while Mercedes-Benz Langley, Dilawri Group's 2017 Star Dealer award earning dealership, offers a variety of innovative accessories to optimize this van's unique capabilities.
The Sprinter 4×4 Cargo Van starts at just $51,900 plus freight, whereas the Sprinter 4×4 Passenger Van can be had for $57,500.
Story credits: Trevor Hofmann, Canadian Auto Press
Photo credits: Mercedes-Benz
Copyright: Canadian Auto Press Inc.