Mercedes-Benz Langley, Star Dealer of the Year 2017 & 2018
Metris Passenger Van
Standard Roof
144 WB
Engine:
2.0L I4 turbocharged gasoline engine
Transmission:
7G-TRONIC PLUS automatic transmission
Payload:
860 kg (1,896 lbs)
Seating Capacity:
Up to 8
Key Features
Powertrain1
Powering the Metris is an incredibly fuel-efficient powertrain with Mercedes-Benz innovation at its core:
2.0 L, 4-cylinder turbocharged gas engine with direct injection
208 hp/258 lb-ft torque
Standard ECO Start/Stop
Up to 25,000 km maintenance intervals
7-speed automatic transmission
Key Features
Blind Spot Assist2
This unique-to-Mercedes-Benz feature can detect hidden traffic on either side of the vehicle and will visually alert the driver if the turn signal is activated. If the warning is ignored and the turn signal is activated, an audible alert is triggered, potentially preventing an accident.
Key Features
Length: 514.1 cm (202.4 in)
The Metris provides plenty of room for cargo, and still navigates narrow streets and tight parking spaces with ease.
Key Features
Height: 189 cm (74.4 in)
With a maximum overall height of 189 cm (74.4 in), parkades, garages, and other low ceiling structures won't keep the Metris from getting to work.
Key Features
Seating for 8
The Metris Passenger Van comfortably seats up to 8 people, providing passengers with ample headroom, leg room, and shoulder room.
Key Features
COLLISION PREVENTION ASSIST3
Using a radar-based system, COLLISION PREVENTION ASSIST3 triggers a series of split-second actions in order to prevent rear-end collisions.
Awards
Vincentric Best Fleet Value in Canada™
2016, 2017, 2018, 2019
Vincentric Best Fleet Value in Canada™
We're proud to announce that for the fourth consecutive year, the Metris has been honoured with the Vincentric Best Fleet Value in Canada™ award. The experts at Vincentric™ compile automotive data from over 1,800 vehicle configurations, and recognize those who offer true value.
*Vincentric™ is a renowned third-party research group that provides data, knowledge, and insight to the automotive industry by identifying and applying the many aspects of automotive ownership costs. Vincentric™ results based on cost-of-ownership calculations in the retail market. To learn more about Vincentric™, click here .
Based on the 2019 Vincentric Best Fleet Value in Canada awards analysis, Mid-Size Commercial Passenger Van segment.
1Requires the use of ultra low sulfur diesel fuel. Mercedes-Benz Sprinters are approved to use B5 biodiesel (approved diesel fuel with a maximum 5% biodiesel content) in all BlueTEC engines. The only approved biodiesel content is one that both meets ASTM D6751 specifications and has the oxidation stability necessary to prevent deposit-/corrosion-related damages to the system (min. 6h, proven by EN14112 method). Please see your service station for further information. If the B5 biodiesel blend does not clearly indicate that it meets the above standards, please do not use it. The Mercedes-Benz Sprinter New Vehicle Limited Warranty does not cover damage caused by non-Mercedes-Benz approved fuel standards.
2Blind Spot Assist may not be sufficient to avoid all accidents involving vehicles in your blind spot and does not estimate the speed of approaching vehicles. It should not be used as a sole substitute for driver awareness and checking of surrounding traffic conditions. Not available on Cab Chassis.
3COLLISION PREVENTION ASSIST may not be sufficient to avoid an accident. It does not react to certain stationary objects, nor recognize or predict the curvature and/or lane layout of the road or every movement of vehicles ahead. It is the driver's responsibility at all times to be attentive to traffic and road conditions, and to provide the steering, braking, and other driving inputs necessary to retain control of the vehicle. Drivers are cautioned not to wait for the system's alerts before braking, as that may not afford sufficient time and distance to brake safely.
Search
Find Your Vehicle ×
Search By Keyword
Search By Filters
Saved
Saved Vehicles ×
SAVED VEHICLES
You don't have any saved vehicles!
Look for this link on your favorites:
Once you've saved some vehicles, you can view them here at any time.
Mercedes-Benz Langley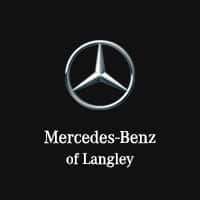 20801 Langley Bypass Langley, BC
Phone: (604) 533-1205
https://www.google.com/maps/place/20801+Langley+Bypass,+Langley,+BC+V3A+5E8,+Canada/@49.1127636,-122.6481935,17z/data=!3m1!4b1!4m5!3m4!1s0x5485ce28b9b51eab:0x19ed6a60b8eb06d!8m2!3d49.1127601!4d-122.6460048
49.11276 -122.6460048