Mercedes-Benz Langley, Star Dealer of the Year 2017 & 2018
Driving Fun.
More fun driving, parking and manoeuvring.
Rear-mounted engine and rear-wheel drive: does that sound more like a sports car than a car for the city? It certainly does. And these features are unique to the smart fortwo in this class.
---
Manoeuvrability.
Short and better.
Small, but big on manoeuvrability. With a length of just 2.69 m and a turning circle of just 6.95 m it's not difficult to find a parking space for the smart fortwo. And now it's even easier because thanks to the high seat position with good all-round visibility you'll spot free parking spaces even more quickly.
---
Excellent road handling.
Takes the city jungle in its stride: its long wheelbase, wheels positioned on the outer corners and extra width of ten centimetres give the smart fortwo a compact appearance. And perfect roadhandling.
Long wheelbase.
Extremely short overhangs: the wheels are positioned on the outer ends of the vehicle – a highly unusual design feature in this form. And they not only look good, in combination with the rear engine concept this also enables the best possible utilization of space and a greater feeling of spaciousness.
Wide track width.
A striking icon: the new smart fortwo is ten centimetres wider than its predecessor, and this has a positive effect on both the interior spaciousness and the visual presence.
Suspension.
Takes road unevenness in its stride: with springs specially configured for the demands of city streets you reach your destination safely and feeling relaxed.
---
Agility.
Direct-Steer system.
Noticeably lighter: the Direct-Steer system greatly facilitates parking and manoeuvring. The Direct-Steer system combines the comfort of speed-sensitive power steering with variable transformation ratios depending on the steering wheel angle. This not only makes for greater cornering agility, it also noticeably reduces the steering effort required when parking. And helps you stay on track.
---
Drive.
The smart fortwo owes its iconic appearance to the position of the engine and transmission at the rear. The efficient 3-cylinder petrol engine with output of 89 hp and the choice between anew manual 5-speed transmission or a 6-speed twinamic dual clutch transmission (DCT) offer plenty of driving fun, even on short errands in the city.
Search
Find Your Vehicle ×
Search By Keyword
Search By Filters
Saved
Saved Vehicles ×
SAVED VEHICLES
You don't have any saved vehicles!
Look for this link on your favorites:
Once you've saved some vehicles, you can view them here at any time.
Mercedes-Benz Langley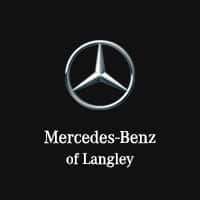 20801 Langley Bypass Langley, BC
Phone: (604) 533-1205
https://www.google.com/maps/place/20801+Langley+Bypass,+Langley,+BC+V3A+5E8,+Canada/@49.1127636,-122.6481935,17z/data=!3m1!4b1!4m5!3m4!1s0x5485ce28b9b51eab:0x19ed6a60b8eb06d!8m2!3d49.1127601!4d-122.6460048
49.11276 -122.6460048