Mercedes-Benz Langley, Star Dealer of the Year 2017 & 2018
smart fortwo prime.
Elegant city driving.
Stylish, timeless, chic. The smart fortwo prime boasts high-quality equipment and timeless elegance. In the interior black leather-covered seats harmonize with the dashboard and door centre panel in black fabric. The accent trim parts around the air vents and instrument cluster finish off the look in white.
---
Alloy wheels.
15" (38.1 cm) 5-twin-spoke alloy wheels painted in black with a high-sheen finish with front tires 165/65 R15 , rear tires 185/60 R15.
Instrument cluster with TFT colour display.
The electrically adjustable exterior mirrors can be controlled from inside the vehicle and adjusted to the drivers position preference. When rear window heating is activated, the exterior mirrors are defrosted to provide the driver with a clear view.
Seats.
Grey topstitching adds an elegant touch to the appealing black leather interior. This impression is reinforced by the dashboard and door centre panels in black and accent trim parts in white.
Heated seats.
For pleasant warmth even before the interior has reached the desired temperature: heated seats for driver and passenger. Integrated heating filaments build up a warm temperature more quickly, making bulky winter clothing unnecessary and also allowing the seat belts to fit more snugly.
Panoramic sunroof.
The fixed panoramic roof is a highly robust yet light construction made of polycarbonate which allows plenty of light into the interior and provides for an enhanced sense of space. The extremely break-resistant plastic features a special exterior and interior coating which provides the roof with a high level of scratch resistance. A slight tint additionally ensures that around 60 percent of the incoming solar energy and 100 percent of the UV radiation remain outside. A fabric sunblind which can be fixed in any desired position provides shade when needed.
LED lighting and H4 halogen headlamps.
Visual highlights include the daytime driving lights in the form of LED fibre-optic cables and the welcome function, which is activated upon locking or unlocking the vehicle. The H4 halogen headlamps are both effective and highly attractive. The system distinguishes itself with a "welcome function", where unlocking/locking the vehicle projects a honeycomb structure in the headlamps. This is created by four white LEDs, and simulates the radiator grille.

The reflector system gathers as much light emitted by a light source as possible, and forms it into a specific beam pattern. The H4 halogen headlamps ensure uniform light distribution. Backglare in rain, snow or fog is at a low level. Front fog lights add an appealing and sporty feel to the front side of the vehicle.

The integrated daytime running lamps make the vehicle more visible to other road users, especially in situations with changing light conditions. A headlamp range adjustment function is also included to avoid dazzling oncoming traffic. Adjustment is via a rotary control on the switch panel to the left of the steering wheel.
LED tail lamps.
Eleven individually illuminated cubes are allocated to each tail light, providing for a striking night design. Using semi-LED technology, the rear and brake lights are in the outer, red-tinted circle segment. The rear fog lamp also uses LED technology. Using conventional bulbs, both the direction indicators and reversing lights are located in the inner, white segment. A separate reflector is located in the bumper below each tail light cluster.
Rain/light sensor.
The rain and light sensor combines comfort and safety. The rain sensor controls the windscreen wipers, adapting the wipe intervals to the amount of rainfall. The accompanying light sensor automatically activates the driving lights, for example when entering a tunnel.
---
Exterior.
15" (38.1 cm) 5-twin-spoke alloy wheels painted in black with a high-sheen finish with front tires: 165/65 R15, rear tires: 185/60 R15
Panorama sunroof (fixed) with sun protection
Radiator trim in black, white or silver
Tridion safety cell in black, white or silver
Interior.
Instrument panel and door centre panel in black fabric, accent trim parts in white
Upholstery in black leather with grey topstitching
Functions and electrics.
Heated seats for driver and passenger
Search
Find Your Vehicle ×
Search By Keyword
Search By Filters
Saved
Saved Vehicles ×
SAVED VEHICLES
You don't have any saved vehicles!
Look for this link on your favorites:
Once you've saved some vehicles, you can view them here at any time.
Mercedes-Benz Langley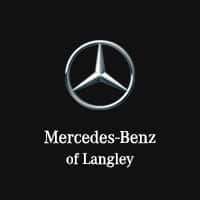 20801 Langley Bypass Langley, BC
Phone: (604) 533-1205
https://www.google.com/maps/place/20801+Langley+Bypass,+Langley,+BC+V3A+5E8,+Canada/@49.1127636,-122.6481935,17z/data=!3m1!4b1!4m5!3m4!1s0x5485ce28b9b51eab:0x19ed6a60b8eb06d!8m2!3d49.1127601!4d-122.6460048
49.11276 -122.6460048