Mercedes-Benz Langley, Star Dealer of the Year 2017 & 2018
smartmove Assistance.
smartmove Assistance.
In order to be able to provide you with optimal service when required, your car is additionally protected by our smartmove Assistance service for four years, unlimited km, after its initial registration.

The sole purpose of smartmove Assistance is to provide you, the smart owner, with the assurance and peace of mind of knowing that help is near should you ever need it, 24 hours a day, anywhere in Canada.
Services provided.
In order to receive smartmove Assistance, you must remain with your disabled vehicle. In addition, your vehicle must be plated and insured and on a regularly travelled road to receive smartmove Assistance services.

Whenever you call for smartmove Assistance, please have available your vehicle identification number (VIN).
1-877-627-8004
1-87-smart-004
---
Services available.
Battery Boost Service.
If your battery has run down, a service operator will provide a boost in an attempt to enable your vehicle to proceed under its own power.
Winching and Extrication Service.
Your vehicle will be extricated/winched when it can be safely reached from a cleared, normally travelled road.
Accidents.
If the breakdown is due to an accident, there will be a charge for the towing service, as accident damage is not covered under the smartmove Assistance program. Charges will depend on the distance the tow truck must travel to retrieve your vehicle and deliver it to the repair facility. We recommend to have your smart towed to the nearest authorized smart dealer. Remember, it is your right to choose the repair facility.
Flat Tire Service.
If your vehicle has a flat tire, the service operator will attempt to inflate the flat tire with the tire sealant included in your vehicle breakdown set.
Towing Service.
In the event of a mechanical breakdown, if attempts to make your vehicle safely operable at roadside have been unsuccessful, towing service will be provided free of charge to the nearest authorized smart dealer in Canada, up to a maximum of 400km. Please remember to contact your servicing dealer to advise them of your breakdown and to discuss and/or authorize the necessary repairs.
Trip Interruption Benefits.
If your vehicle is unable to proceed under its own power due to a non-accident related mechanical breakdown, smartmove Assistance will provide reimbursement for alternative transportation up to $200.00 per incident. (Note, this benefit does not apply for towing required as a result of an unsuccessful tire service, as this is not considered a mechanical breakdown.)
How to claim for reimbursement:
1. Claims must be submitted to smartmove Assistance within 30 days of the date of breakdown.
2. Indicate the cause and location of the breakdown. Towing claims must be accompanied by the original tow invoice.
3. Enclose a photocopy of the detailed repair invoice and original invoices/receipts for the alternate transportation costs incurred.
4. A cheque is sent upon receipt and confirmation of information (please allow 30 days for processing).
5. Reimbursement applies for breakdowns occurring anywhere in Canada and is subject to the terms and conditions set forth by Mercedes-Benz Canada Inc.
6. For reimbursement, please address claims to: smartmove Assistance, P.O. Box 5845, London, Ontario, N6A 4T4.
Liability and Limitations:
Mercedes-Benz Canada Inc. reserves the right to limit services and reimbursement to an owner or driver under the program described herein when, in the sole judgment of Mercedes-Benz Canada Inc., the claims become excessive in frequency or type of occurrence. Mercedes-Benz Canada Inc. also reserves the right to revise or discontinue the described services/benefits at any time, without notice, at its sole discretion.

All service operators providing service are independent contractors and are not employees of Mercedes-Benz Canada Inc. Therefore, the smartmove Assistance Program cannot and does not assume any liability or responsibility for any loss or damage to your smart or your personal property resulting from rendering such service.

Service operators may decline providing service if the vehicle is unattended. Should service be rendered, the service operator will not be liable for any theft or damage of the vehicle and/or its contents while left unattended.
Search
Find Your Vehicle ×
Search By Keyword
Search By Filters
Saved
Saved Vehicles ×
SAVED VEHICLES
You don't have any saved vehicles!
Look for this link on your favorites:
Once you've saved some vehicles, you can view them here at any time.
Mercedes-Benz Langley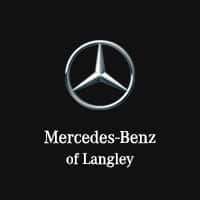 20801 Langley Bypass Langley, BC
Phone: (604) 533-1205
https://www.google.com/maps/place/20801+Langley+Bypass,+Langley,+BC+V3A+5E8,+Canada/@49.1127636,-122.6481935,17z/data=!3m1!4b1!4m5!3m4!1s0x5485ce28b9b51eab:0x19ed6a60b8eb06d!8m2!3d49.1127601!4d-122.6460048
49.11276 -122.6460048