The All-New 2015 GLA – Mercedes Benz Luxury SUV
The All-New Mercedes-Benz 2015 GLA 250
With its turbocharged engine, 7 speed automatic transmission, and 4MATIC all wheel drive, the GLA will turn your test drive into a sport drive.
Nimble enough for exploring city streets and rugged enough for dirt road travels, the new GLA is built for curious wanderers and four-wheel adventurers who don't wish to compromise luxury for practicality. GLA. Always ready.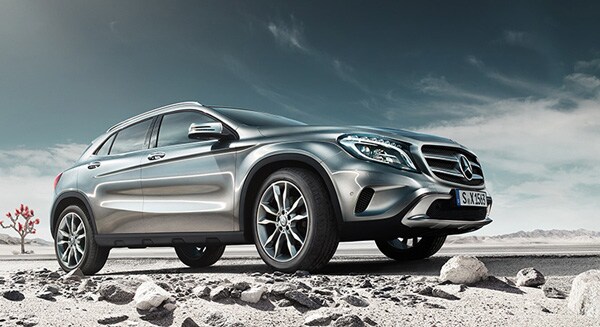 Even before you slip behind the wheel, the GLA's superior sporty design is apparent with your first glance at its fitted roof rails and dual hood powerdomes.
Cargo Space
1,235 litres of cargo space; divided tail lights make loading larger objects easy; rear privacy glass; EASY-PACK button for one-touch opening/closing.
Performance
208-horsepower turbocharged engine outs 258 lb-ft of torque; 7G-DCT 7-speed automatic transmission features Economy, Sport, and Manuel modes; 4MATIC all-wheel drive is up to 25% lighter than competitors' systems; 0-100 km/h in 7.1 seconds; ECO Start/Stop functionality saves fuel and reduces emissions by shutting off the engine when stopped in traffic or at a red light; enhanced On/Off road package offers even better off-road performance at the push of a button; Downhill Speed Regulation helps handle steep downhill driving through engine transmission.
Safety/Innovation
COLLISION PREVENTION ASSIST monitors the distance from the vehicle ahead, warns of danger of collision and optimizes braking power; ATTENTION ASSIST alerts drivers when they are drowsy; Optional PARKTRONIC with Active Parking Assist facilitates automatic parking.
Mercedes-Benz has developed the world's foremost assistance technologies to help ensure every journey is stress-free – starting with your test drive.
Call us at 1-877-848-7006.